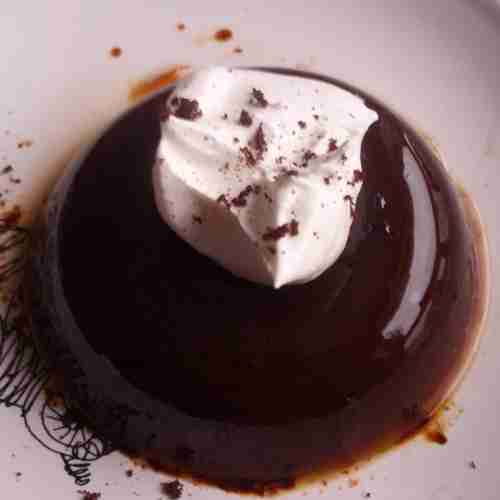 The history of coffee jelly.
This delicacy is a jelly dessert commonly found in Japan. However, it was first introduced in cookbooks in the 1800s. It comes from British and American roots but has since lost popularity. Now, coffee jelly is most commonly found in restaurants, cafes, and dessert shops all over Japan.
It has been served in Japan in the Taisho period between 1912 – 1926 but gained popularity in 1963. This is when Mikado Coffee in Tokyo introduced its signature coffee jelly. It was marketed as "coffee you can eat," and with the thriving coffee culture in Japan, it was a hit. In addition, Japanese culture adores jiggly, jelly-like consistencies. Foods like fluffy jiggly cheesecake and jiggly loaves of bread have become popular for their texture and constancies.
Not only has it become popular in Japan, but it has quickly become a popular summertime treat and is coming to grocery stores and some cafes worldwide.
Starbucks has even caught on and served a coffee jelly frappuccino back in 2016. Paired with a thick boba straw and coffee jelly has the potential to be the next big coffee trend.
This dessert has already started its way out of Japan into a worldwide favorite. Not only can you find this dessert in a local convenience store, but you can also make it at home! It is a very simple recipe that is impossible to mess up.
Ingredients
Here are all the ingredients you need to try making this tasty treat at home. You can make this dessert as simple or complex as you want. It can be easily elevated with some vanilla ice cream or whipped cream. For the coffee, you can use drip coffee, espresso, or even instant coffee. Here are some guides to make all different types of coffee.  There is no right or wrong way to make coffee jello.
Traditionally when making Japanese jelly you will have to use agar, which is vegetarian gelatin made from seaweed. However, you can also use gelatin which may be more accessible to a western audience.
Water
Coffee
Sugar
Agar (or gelatin)
Condensed Milk
Heavy Cream
Recipe
This recipe is extremely simple and is just a combination of coffee, agar (or gelatin), and cream. The taste should be bouncy, chewy, creamy, a bit milky, sweet, and bitter. Typically, we like serving it in individual cups with a splash of whipped cream, ice cream, or condensed milk on top.
It is easy to prepare and store so you can easily prepare some ahead of time and take them out as a post-dinner dessert.
How long it will take to make
Like we said before this recipe is extremely easy to make. The total time it will take to make the coffee jelly is 2 hours and 20 minutes, but most of that time will be waiting for the jelly to chill. The total active cooking time will only be 20 minutes. 5 minutes will be used to prep the ingredients and 15 minutes will be used to make the coffee jelly.
| | | |
| --- | --- | --- |
| Prep Time | | 5 minutes |
| Set Time | | 15 minutes |
| Cook Time | | 2 hours |
| Total Time | | 140 minutes |
| Servings | | 4 servings |
| Calories | | 35 calories |
Ingredient ratios
You can vary the amounts of ingredients needed to your taste, but this is the recipe we are using. You can also swap out the coffee with espresso for a more concentrated and stronger tasting coffee jelly. The amount of gelatin also affects the firmness of the resulting jelly. Others may prefer milky coffee jelly cubes so you can add milk or condensed milk to the jelly before it solidifies according to your preference.
For our recipe, you will be left with a mild coffee jelly that you can eat alone or add to a cold coffee for a perfect dessert or snack.
What you need
2 cups of freshly brewed coffee
1 package of gelatin or agar (.25 ounces)
2 tablespoons of sugar
4 tablespoons of water
How to Make Coffee Jelly
The best part about making this dessert, other than eating it, is how simple it is to make.
Brew 2 cups of coffee any way you prefer. Add 2 tablespoons of sugar and stir it until all the sugar is dissolved. Then let cool.
Pour the gelatin mixture into the hot water and stir it well until all the gelatin is dissolved.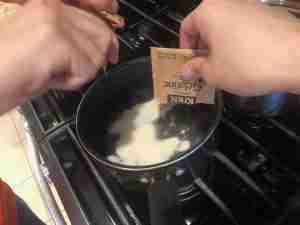 Take the mixture off the heat and combine it with the hot coffee then pour into serving cups or containers to cool off.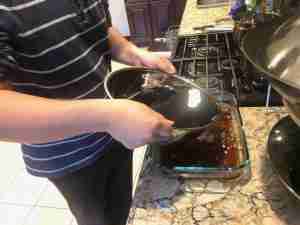 Put the containers into the refrigerator to cool and set for 2 hours.
Enjoy your coffee jelly however you like!
Additional coffee jelly recipe recommendations
You can also make coffee jelly with espresso because it imparts a wonderful coffee flavor to the jelly.
If you enjoy really sweet desserts, you can add heavy milk and condensed milk on top of your jellies. It goes together well because it complements the texture of the jellies and the flavor of the coffee.
Lastly, when setting the jelly you can pour the mixture into a baking tray to create a thin layer of jelly about 1 inch thick. Once set you can use a knife to cut it into cubes. You can also get creative with the setting process. If you have any cups or ice cube makers in cool shapes you can use them to set coffee jellies.
How to Enjoy
We recommend enjoying your coffee jelly with some frozen whipped cream, heavy cream, and some chocolate syrup drizzled on top. You need some sweetness to offset the faint bitterness of the coffee. The resulting dessert is a heavenly mixture of flavor and fluffy texture.
An alternative serving method is with just a big scoop of ice cream on top. There are many ways to enjoy this delicious treat.
Testimonials
5/5

Umai! I tried making this coffee jelly recipe with my friend and it came out great. It was so simple to prepare and exactly what I was hoping for. This recipe is definitely something I will be making often.

Kody, YouTuber
Comment below if you've tried this recipe! Let us know what you think about this coffee jelly.