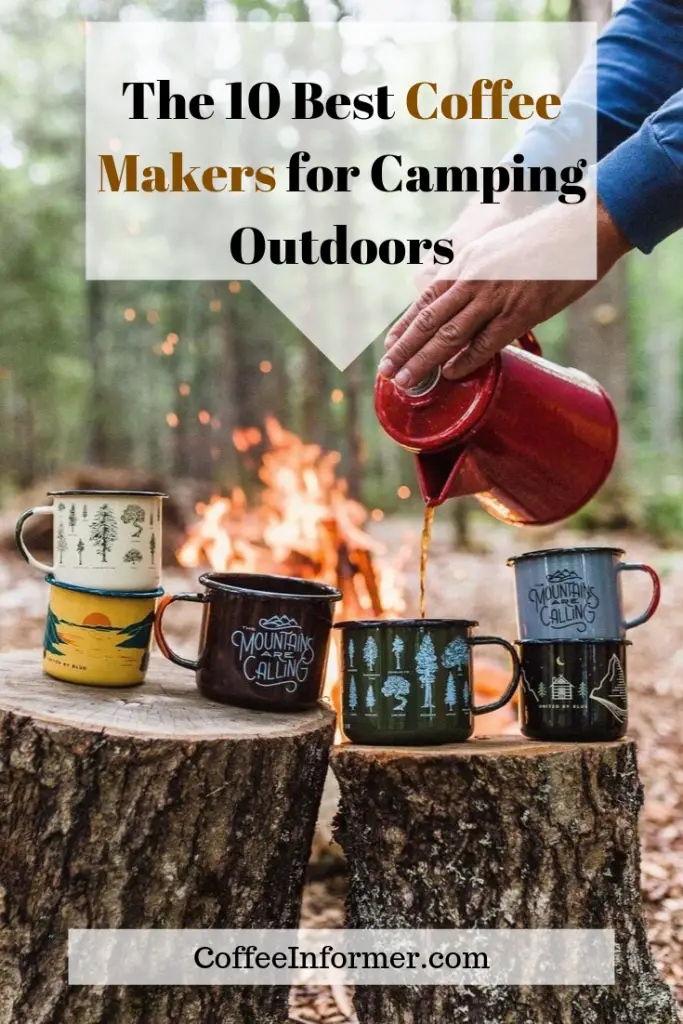 What's better than waking up with the sunrise on a perfect day after hiking up to your camping spot high in the mountains. The best thing to start up your perfect day is to brew a cup of coffee in the best coffee maker for camping outdoors. We've researched the 100 best coffee makers for camping that our fans have submitted and had picked the best. We're all jittery from all the testing. Now, let's show you the results. We have chosen the most portable, durable, and easy to use coffee makers that still can brew a great cup of coffee.
What Makes the Best Coffee Maker for Camping?
We will be judging each of these coffee makers using a few guidelines. It is the weight, capacity, portability, ease of use, and taste.
Weight
The weight may be the most important thing to consider for ultralight backpackers. Our ideal weight is no more than 5 ounces. Any more than that and it is too heavy to lug around. For those who camp in cars, campers, or vans weight will not be an issue when choosing their camping coffee makers.
Capacity
Depending on how many people you go camping with capacity may be something you look at. If you are the designated coffee guy and everyone shares your love for coffee you will have to choose a coffee maker that can brew multiple cups at a time. Similarly, solo campers should save both space and weight by packing a smaller coffee maker with a smaller capacity.
Portability
Coffee makers should be portable for camping. Most of the coffee makers in this list will be streamlined and come with a carrying bag or collapse to fit together.
Ease of Use
When we're out in the fields, we don't want to spend all our time assembling and cleaning our coffee makers. This is why we want our gear to be as simple as possible. We look for coffee makers that are easy to set up and easy to clean.
Taste
The taste of coffee is subjective to everyone. We included coffee makers in our list with a range of styles to suit different preferences. Most popular styles are pour-over and french press coffee makers for camping.
Quick View
1. Stanley Cook + Brew Set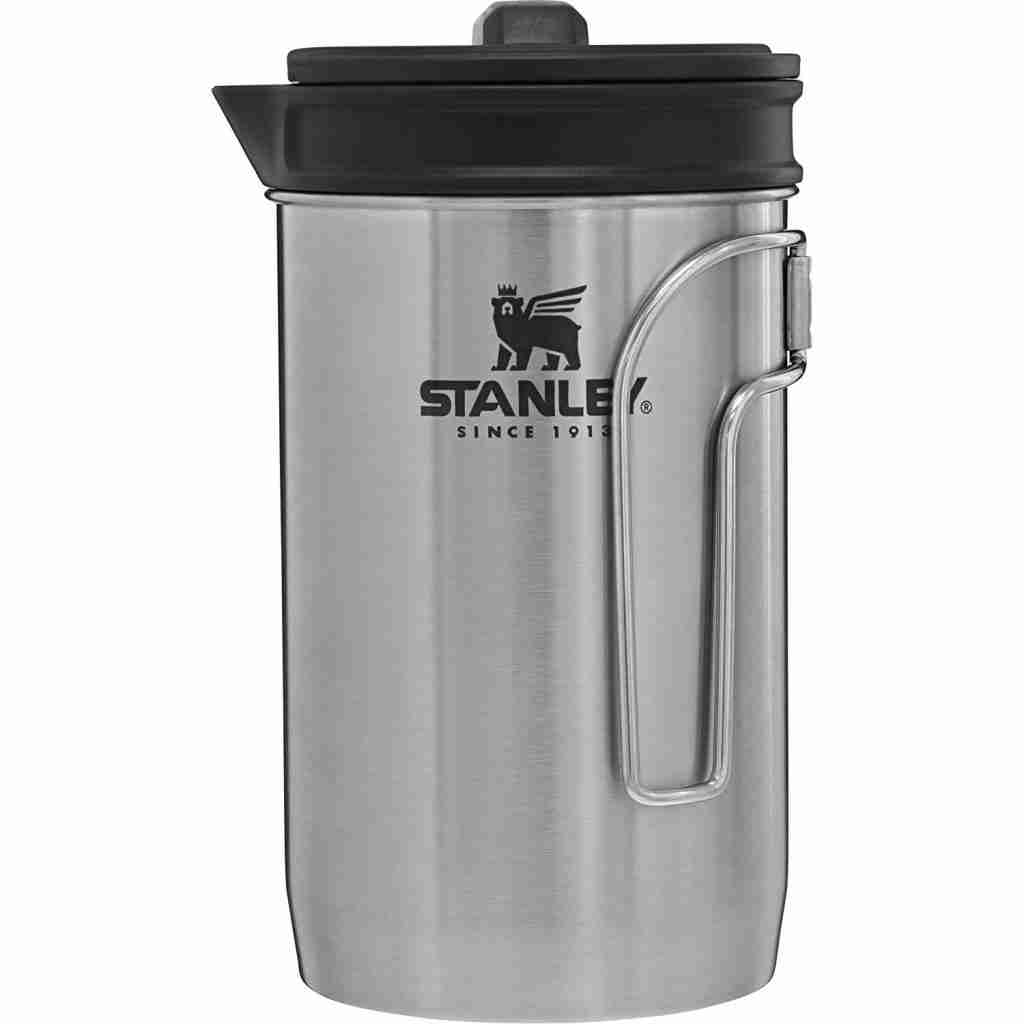 In our expert opinion, the Stanley Cook + Brew Set checks all the boxes on our list. There are only two pieces to this coffee maker. A stainless steel cooking pot that can be used as a mug and a BPA free nylon french press style plunger. Both pieces fit together very nicely and the pot handle folds down to be easily pack in a camping bag. This camping pot can be placed in fires and comes with a lifetime warranty from the manufacturer.
Click here to check pricing and to read more reviews
Pros
Lifetime Warranty
BPA Free
Very Compact to Save Space
Versatile Cup / Pot
Cons
Handle Gets Hot
Can Only Brew One Cup
2. GSI Outdoors Java Press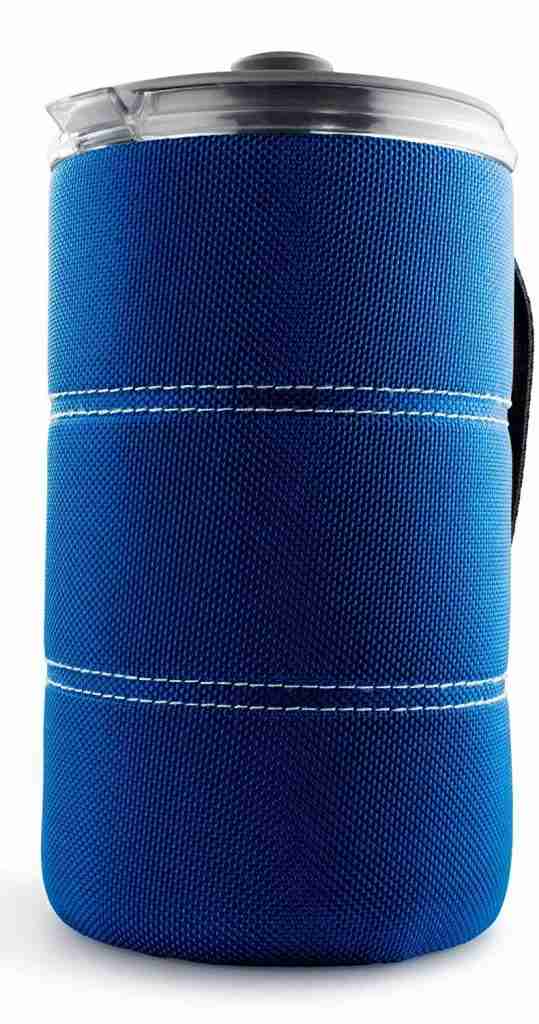 This coffee maker is one of the best coffee makers for outdoors. The JavaPress is wrapped in a cloth sleeve made of a BPA free material. It helps insulate your coffee and keeps your hands from getting burned. The capacity is 30 fluid ounces. This is about four small cups of coffee. It works exactly as a normal french press would and is very easy to clean up.
Click here to check pricing and to read more reviews
Pros
Insulating Sleeve and Lid
BPA Free Plastic
Brews Multiple Cups
Cons
Cannot Be Used To Boil Water
3. Hario V60 Plastic Dripper
This one is for all the pour-over fans out there. The Hario V60 Plastic Dripper is a classic coffee maker for home and is one of our favorites for taking outdoors. It has a proven coffee maker that gets better as your technique improves. Plus, this coffee maker only weighs 2.95 ounces, you will barely feel it in your pack. Hands down, this coffee maker will provide you with one of the easiest, cleanest, and tastiest cups of coffee you will have outdoors.
Click here to check pricing and to read more reviews
Pros
Impressive Flavor
Lightweight
Can Brew For Groups
Cons
Awkward Shape
Requires Specific Coffee Filter
4. Aerobie AeroPress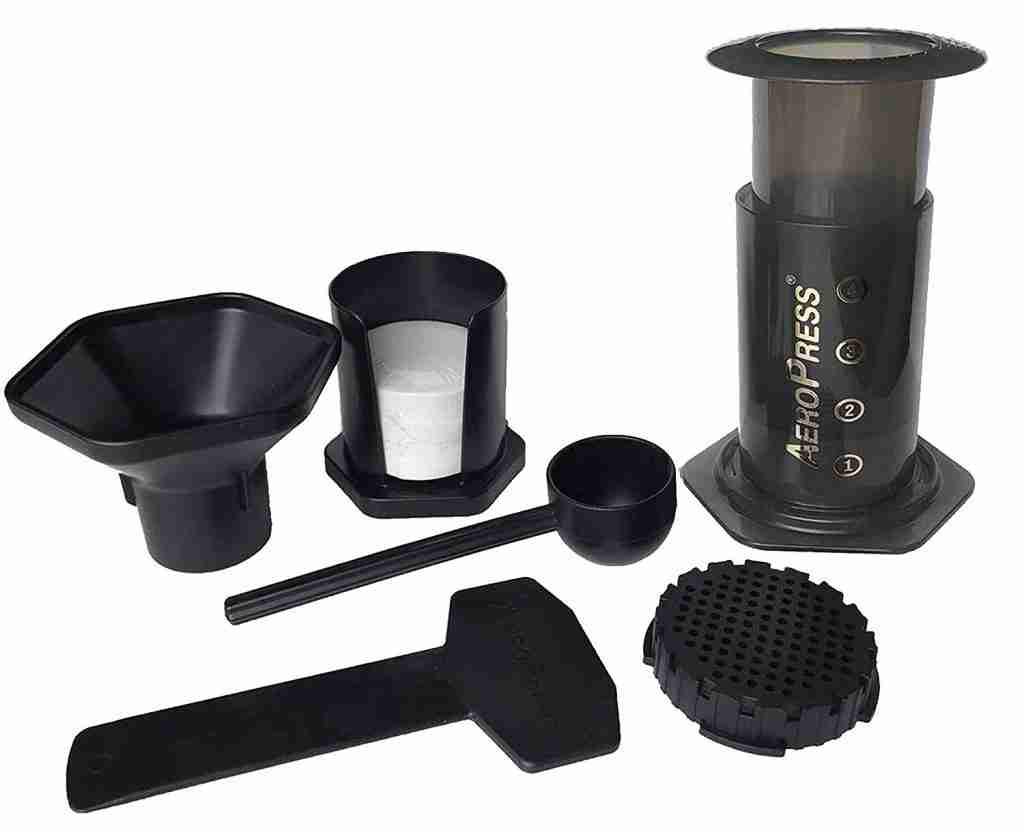 For the gourmet outdoors-men out there who prefer flavor over convenience. This is the leader in taste for all the portable coffee makers you can use outdoors. The brewer is very functional and makes smooth espresso-like shots. While bulkier than the other choices on this list it is still portable enough to bring on a camping trip and is extremely easy to clean.
This coffee maker is unique in having more pieces than most other camping coffee makers. You need a cup large enough to plate this on top of to press the coffee into. You will also require special AeroPress filters that will not be easily available. Perfect coffee maker for the coffee geeks who want to take their favorite tastes outdoors with them.
Click here to check pricing and to read more reviews
Pros
Gourmet Flavor
Easy Cleaning
Espresso Like Taste
Cons
Complicated Use
Clunky With Many Pieces
Special Round Filters Required
5. Snow Peak Folding Coffee Drip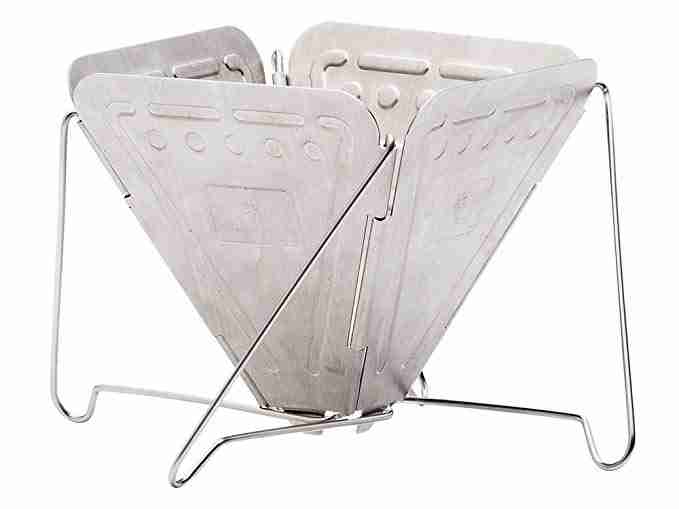 For any of the ultralight campers who need their morning caffeine fix, this is the coffee maker you want. Its lightweight and durable body can be folded so it's flat. This makes it extremely easy to pack. Additionally, it is heavy-duty because of the stainless steel material. Therefore, it is very easy to clean and requires very little maintenance. It works with any standard sized cup and coffee filter. As a result, this is a great choice for someone that wants a simple coffee maker they can take anywhere they go.
Click here to check pricing and to read more reviews
Pros
Folds Flat For Easy Storage
Adaptable To Any Setup
Easy Cleanup
Easy Setup
Extremely Lightweight
Cons
Requires a Coffee Filter
6. Wacaco Minipresso Portable Espresso Maker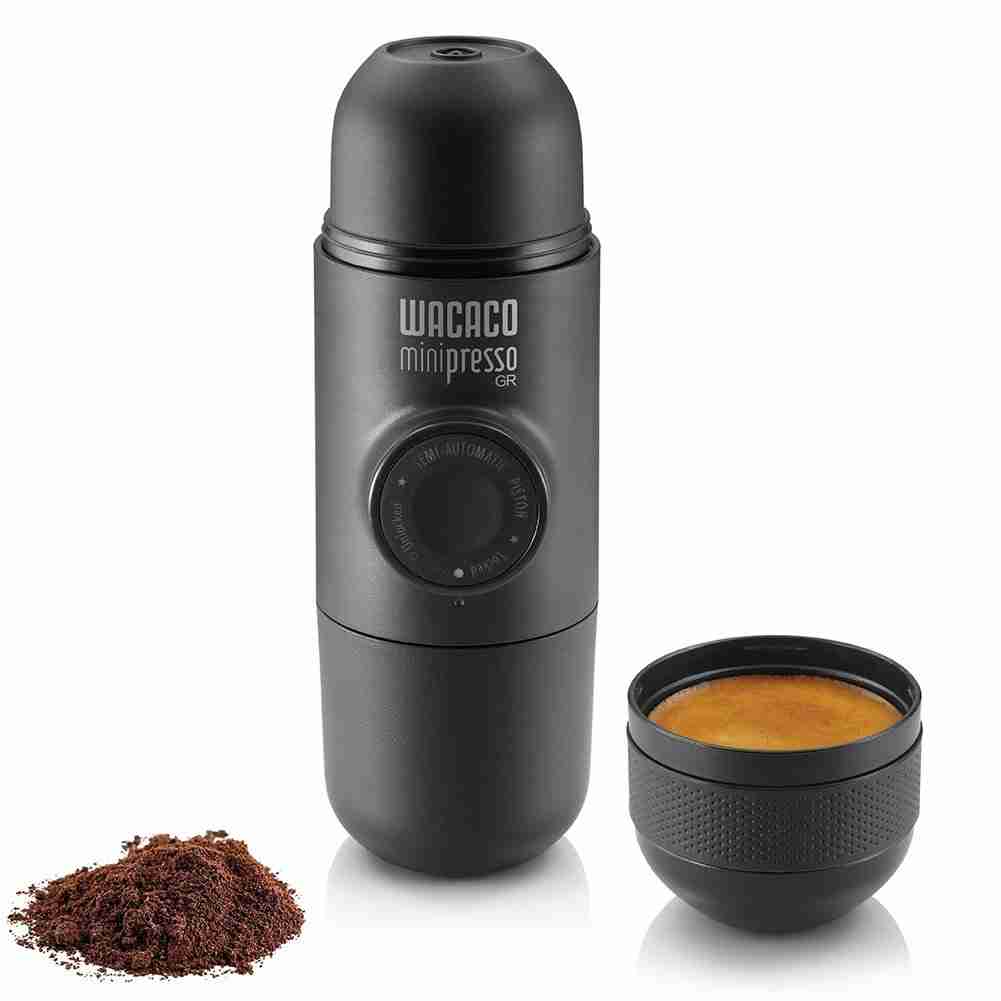 Just because you're away from civilization doesn't mean you can't enjoy a cup of espresso. This is a patented coffee maker that uses ground coffee to make espresso wherever you are. It can pump 18 bars of pressure for a great extraction of flavor and a perfect pull of espresso outdoors. It is small, lightweight, portable, and sturdy. This is great for a glamping trip so you can have your espresso just the way you like.
Click here to check pricing and to read more reviews
Pros
Espresso With No Need For Batteries
Uses Regular Ground Coffee
Small and Lightweight
Detachable Cup
Insulated Design
Cons
Comparatively Large
Hand Powered
7. Coleman QuikPot Propane Coffee Maker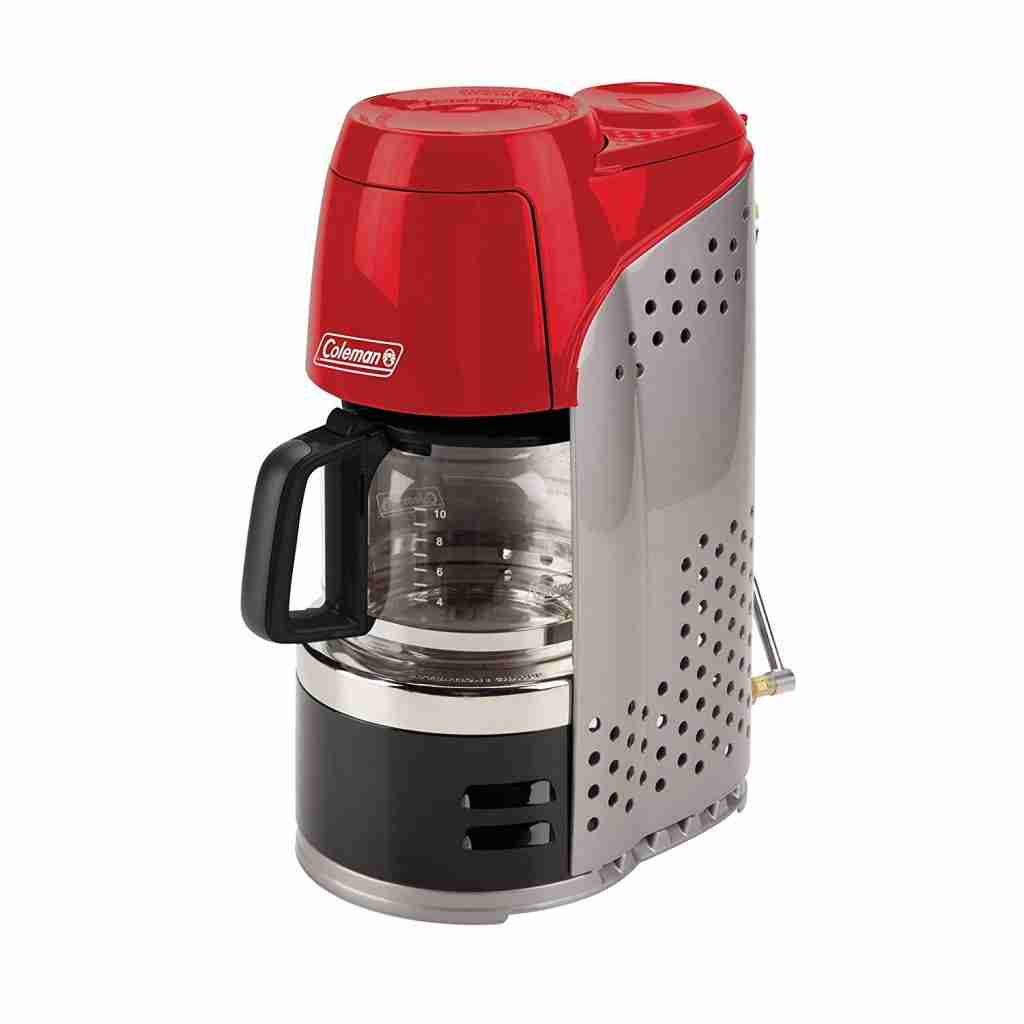 Everyone has had a good classic cup of coffee from a household drip coffee machine. However, this is the portable version powered by propane. It has a 10 cup capacity so its perfect for group camping with friends and family. All you need to do is press one button to ignite the propane. It brews the coffee and keeps the coffee warm on the hotplate. A 16oz can of propane power this baby for up to 4.5 hours.
Click here to check pricing and to read more reviews
Pros
10 Cup Capacity
1 Press Coffee
Keeps Coffee Warm
Cons
Slow Brew Time
Requires Propane
8. nCamp Portable Coffee Maker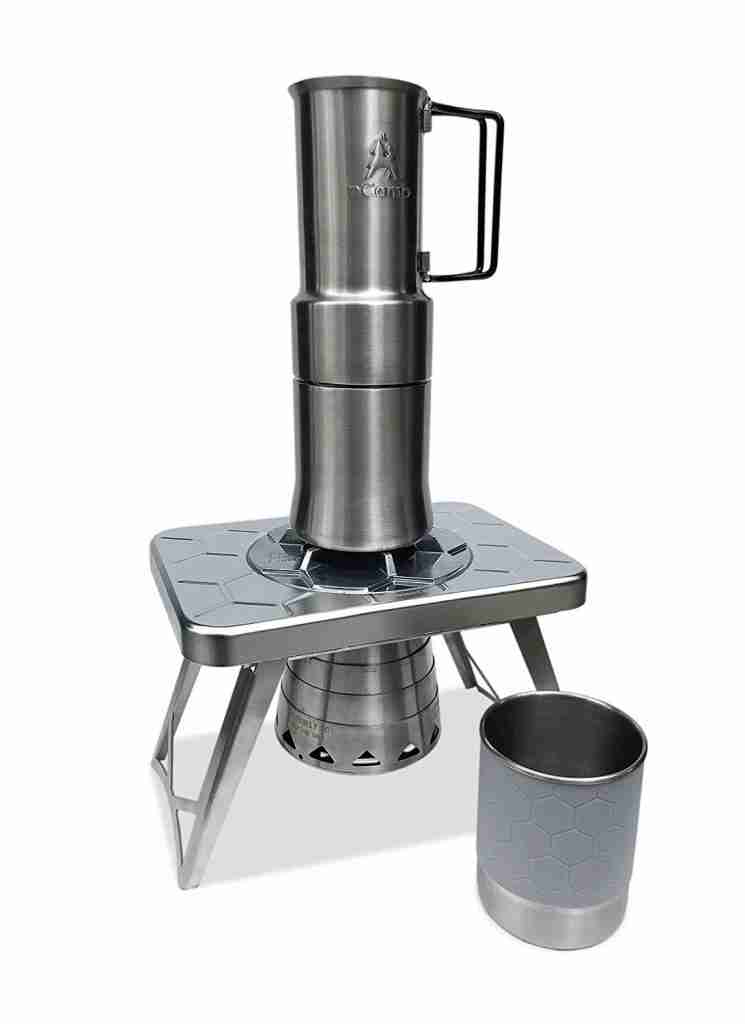 We like this coffee maker as a better alternative to a traditional Italian Moka pot. This coffee maker has a more rustic feel and is more portable than a regular Moka pot. It comes with a nested cup that fits right in to save space. However, while it comes with a nested cup to try to save space it is a bit large and a bit too heavy to take backpacking. It brews up to four small cups of coffee and it would be best to bring to a camping trip near a campsite without hiking. The best part is because it is an all in one system, you have everything you need for a perfect cup of coffee.
Click here to check pricing and to read more reviews
Pros
All In One System
Large Brewing Capacity
Durable And Sturdy
9. Jetboil Flash Java Kit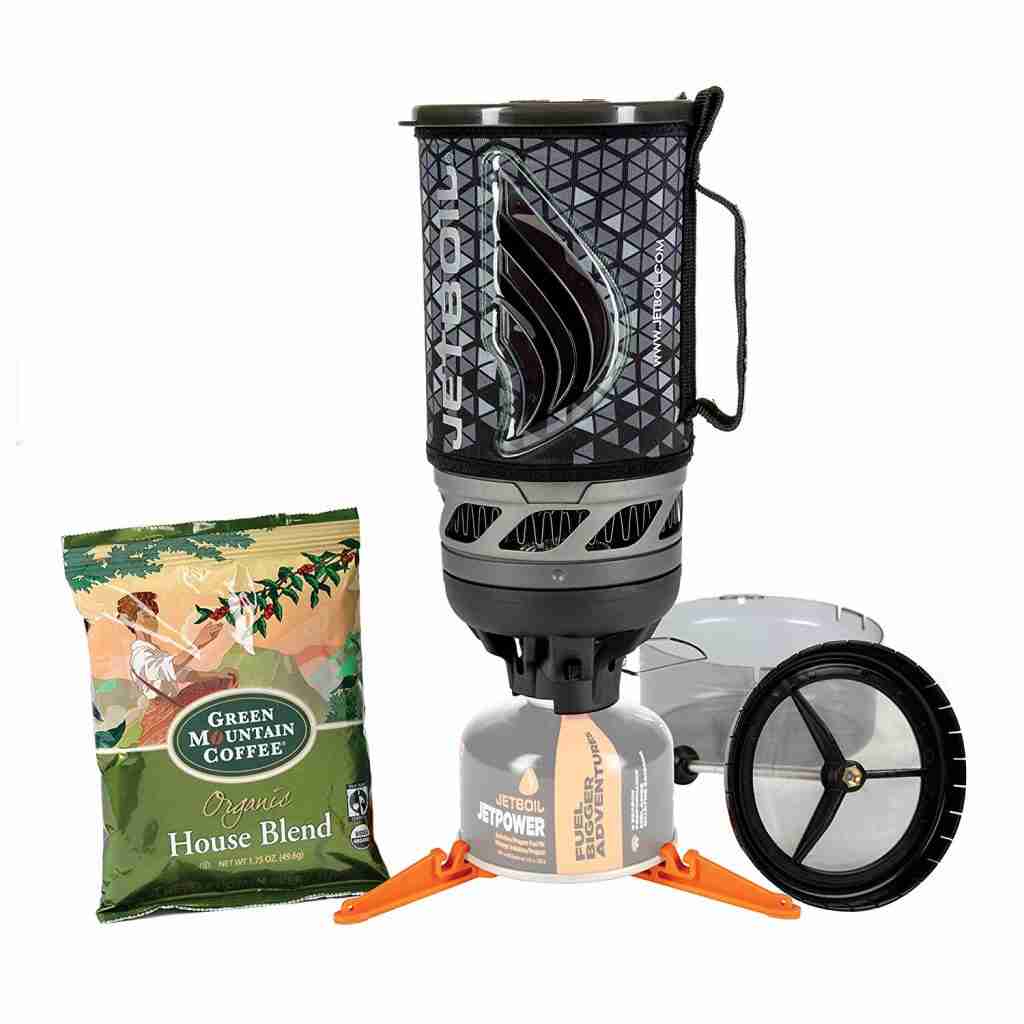 This is the most interesting coffee maker on the list. This Jetboil system has been review by many YouTubers and is a simple french press. It is the fastest coffee maker on this list. There can be many uses for this all in one java kit. It can boil 16 ounces of water in under 2.5 minutes and it packs down to the size of a water bottle. The coffee stove and cup can be used for other things such as soups and cooking. All you have to do to start it up and make your cup of coffee is press one button.
Click here to check pricing and to read more reviews
Pros
Versatile Stove And Pot
All In One Coffee Set
Packs Down To Size Of A Water Bottle
Cons
Expensive
Requires Propane
10. Espro Travel Press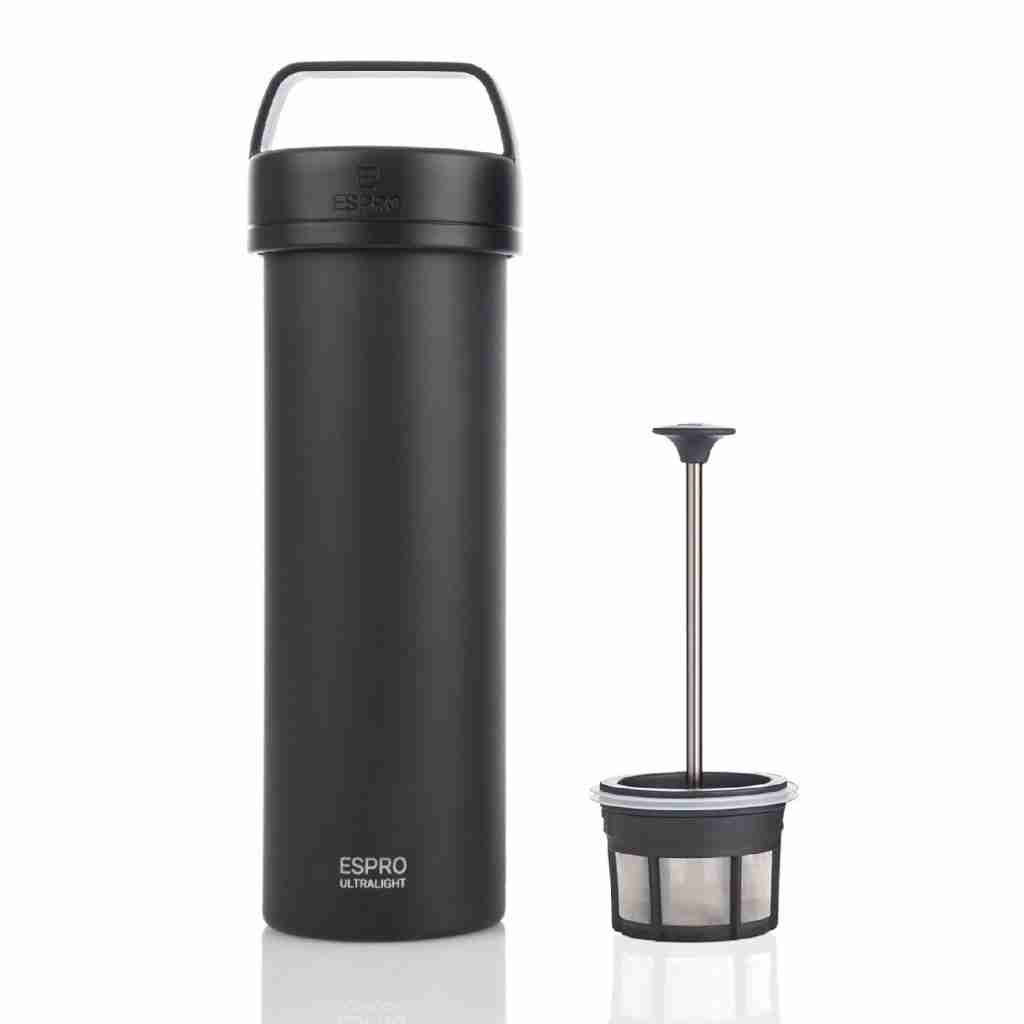 We also included this coffee maker as one of the best coffee makers for College Students. If you are a college student looking for a coffee maker you can use while camping and at school definitely check out that article and look into this coffee maker.
This coffee maker is a french press style. The thing that sets it apart is the double filter that filters the coffee better and does not let any of the grinds through. The ultra-light version of the Espro Travel Press cuts the weight by half and is a simple, cheap system for a french press to use while camping.
Click here to check pricing and to read more reviews
Pros
Double Filter
Ultra-light Version Available
Easy To Clean
Cons
Small Brew Size of 10 Ounces
Many Different Pieces
How To Brew The Perfect Coffee While Camping Outdoors
Everyone has different tastes when it comes to their perfect cup of coffee. When you roughing it in the brush, and still want your morning cup of coffee we know you want the tips to make the perfect cup of coffee while camping.
General Tips for Making The Perfect Cup of Coffee Outdoors
When boiling your water the optimal temperature when extracting the oils and tastes from coffee beans is around 200 degrees Fahrenheit. Once your water is at a roaring boil you do not want to pour the water immediately on the coffee grounds. This would result in the over-extraction of the beans and create a very bitter drink. Therefore, what you should do is wait a few minutes until all the bubbling has stopped before pouring it onto your beans. By doing this you will have a better tasting smoother cup of coffee.
Another thing to keep in mind when brewing your beans is to pre-infuse your grounds. Chances are, many automatic coffee makers skip this step. By manually pouring your coffee you can "bloom" your coffee. This is when you a little hot water over the grounds to help release any trapped carbon dioxide gas. This is shown as the foam that comes out when you first start your pour. By skipping this step, many automatic brewers effectively make weaker brews because the carbon dioxide repels water and limits the amount of contact the water has with the grounds.