As of March 1, 2020, Panera Bread has started marketing its unlimited coffee subscription for just $8.99 a month. The Panera Bread unlimited coffee subscription actually started in February and a few astute coffee drinkers may have hopped on this great deal a bit earlier, myself included.
With this subscription, you are eligible to get unlimited hot or iced coffee ever 2 hours. However, with your Panera cup, you are allowed to get unlimited refills. Essentially, this is unlimited coffee with no exceptions. Cup size and time of day do not matter so you can grab your cup any time of day.
If you grabbed only one cup of coffee a day in a normal 30 day month that would come out to around 30 cents a cup. Knowing us coffee drinkers, some days may come out to more than just one cup of coffee.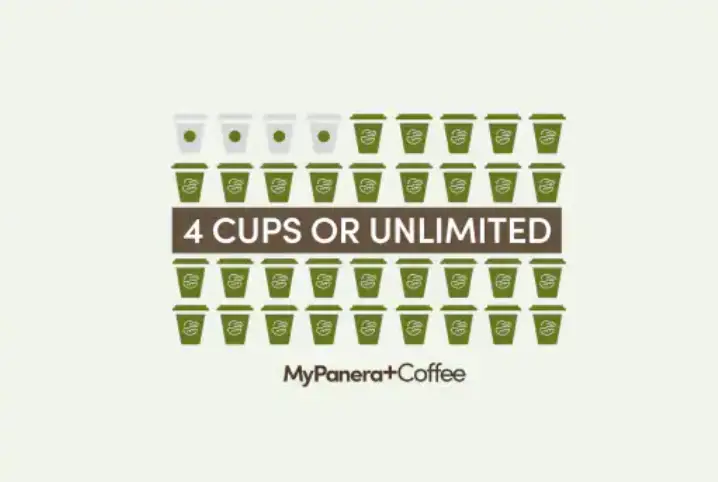 Compared to Other Coffee Subscriptions and Reward Programs
Starbucks Rewards
Starbucks offers a simple rewards systems that allow you to collect and redeem "stars" as you make purchases. This is essentially a reward point system. There is a reward structure linked to how much money you spend.
25 Stars: Extra espresso shot, dairy substitute or additional flavor
50 Stars: Brewed hot coffee, hot tea or select bakery items
150 Stars: Handcrafted drink, hot breakfast or yogurt parfaits
200 Stars: Lunch sandwich, protein box or salad
400 Stars: Select merchandise or packaged coffee
Dunkin' Donuts
Dunkin used to have the Regular Refills Subscription Program which was fulfilled by Conneckt, Inc., but this has been discontinued as of November 30th, 2019. Currently, Dunkin' also goes off a point system. You earn 5 points for ever $1 spent and every 200 points get you one free beverage.
McDonald's
At McDonald's, there are McCafe Rewards through the McDonald's App. It goes by a punchcard system and for every 5 McCafe beverages you buy, you'll get one free.
Burger King
In 2019 Burger King has also introduced a coffee subscription plan. Their subscription costs $5 per month for a small coffee every day. This only covers regular hot brewed coffee at participating locations and none of the flavored iced coffees or frappe versions of the drinks. This is one downside of this program. Normally, Burger King's small coffees usually only run $1, and in our opinion is a worse deal than Panera's unlimited iced or hot coffee of any size.
Panera's Plans for the Future
The CEO of Panera Bread said he is planning on disrupting the industry with this groundbreaking program.
There are no ifs and buts, this is truly unlimited access to coffee for a monthly subscription of $8.99.

Niren Chaudhary, CEO of Panera Bread
According to Acorns, an automatic investment app that invests your spare change into ETFs, the average American spends around $1,100 a year on coffee. This may be due to the adoption of coffee into social norms such as business meetings, social gatherings, and everyday meals. Compared to that number, this subscription that will only cost $108 per year, will be a much less expensive option for those who are on a budget.
The bigger picture for Panera is to expand this subscription model to include more than coffee once the concept is proven. Imagine unlimited cookies, unlimited meals, and unlimited pastries. There are already companies such as MealPal that have subscription services for food. For now, we will settle for coffee, but what the future holds for Panera Bread is very interesting.
How to Sign Up and Use Your Subscription
All you need to join Panera's Unlimited Coffee Subscription is to have a Panera Rewards account. CLICK HERE for more details and to enroll in the Panera Unlimited Coffee Subscription.
Once you are subscribed you can use your coffee subscription like a regular reward. When you are checking out make sure to order a coffee and scan your Panara Rewards card. You can do this via the app, kiosk, or normally and get your cup of joe for free.
Our Thoughts
We think Panera is genuinely providing a much-needed service to coffee addicts. Panera has continued providing high-quality service and product time and time again. This new subscription is no exception. Panera has continued revamping and expanding their selection and introducing new coffee blends frequently. These coffees are freshly ground every day and are made from 100% whole Arabica beans as opposed to Starbucks. Read about the difference in quality between the beans Starbucks and Panera Use.
Panera has removed the upcharge for premium options such as plant-based milk and almond milk. Flavorings and roasts such as the light roast, dark roast, decaf, and hazelnut are also all available to customers.
As a regular drip coffee drinker, this is a no brainer as a subscription service. It is obvious that Panera Bread is trying to get more people into stores so they buy higher-margin items like specialty drinks and foods, but this new subscription is highly worth it for us.