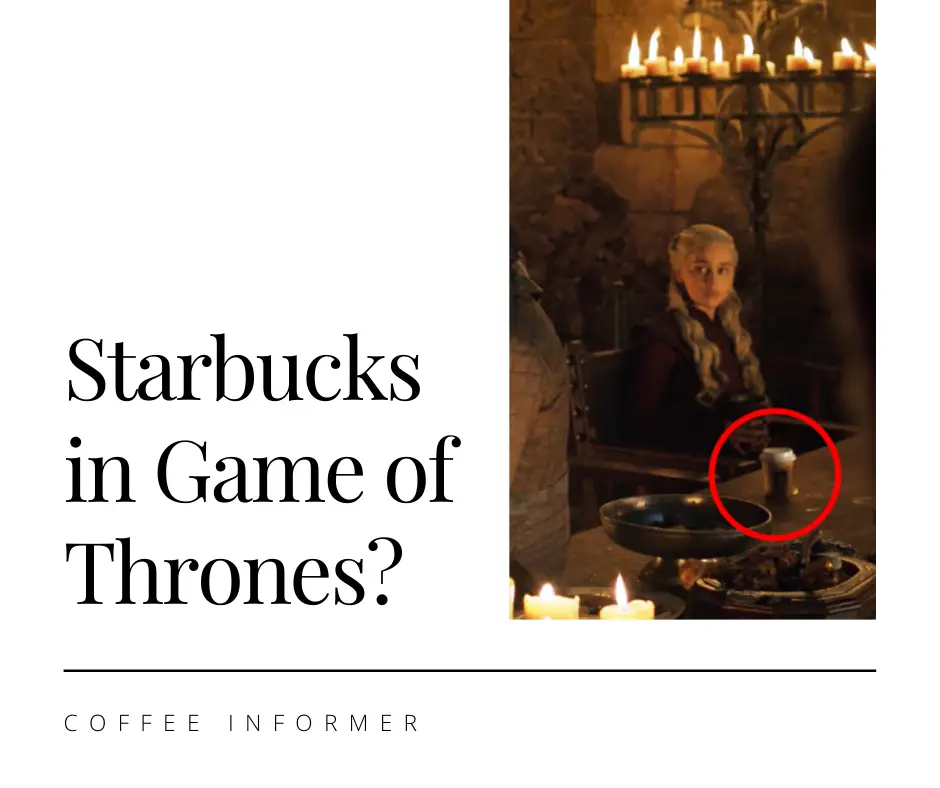 In one of the last episodes of Game of Thrones, there is a cup of Starbucks sitting on the table next to Daenerys. You don't need to pause or even look closely to find it. It is blatantly sitting there in center stage.
According to the producer of Game of Thrones, Bernie Caulfield it was an error and he apologized for the accidental appearance of the cup.
The kicker is this cup may not even be a Starbucks cup of coffee. It is pretty hard to see and you cannot make out the logo on the cup.
However, if you zoom in you can see that while it looks like a Starbucks cup it is a beige cup with a white lid. Starbucks does not have any cups that look like this.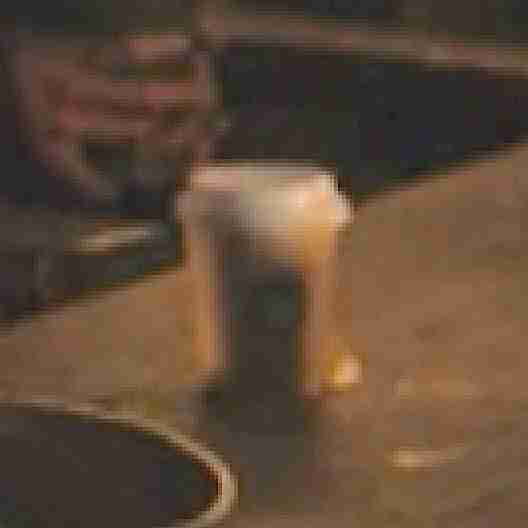 Photo from HBO
You can also kind of make out something on the table next to the cup… it may be a tea bag. The logo on the cup also looks off. It does not really look like the Starbucks mermaid logo and seems too dark and the lighter parts do not match up with a Starbucks logo.
Further interviews with TMZ revealed that it IS NOT a Starbucks cup of coffee. Instead Game of Thrones art director Hauke Richter confirmed that this came from a local coffee shop in Bainbridge, Ireland where the show was being filmed that day.
Here is a better look at the cup that can be seen in Game of Thrones.
Sansa always scheming pic.twitter.com/WuX1gQsMQZ

— A Big Skeleton ? (@a_big_skeleton) May 6, 2019
With some digging online there are a few sources that point towards a local coffee shop in Ireland being Paper Cup. Does this cup with this sticker look right to you?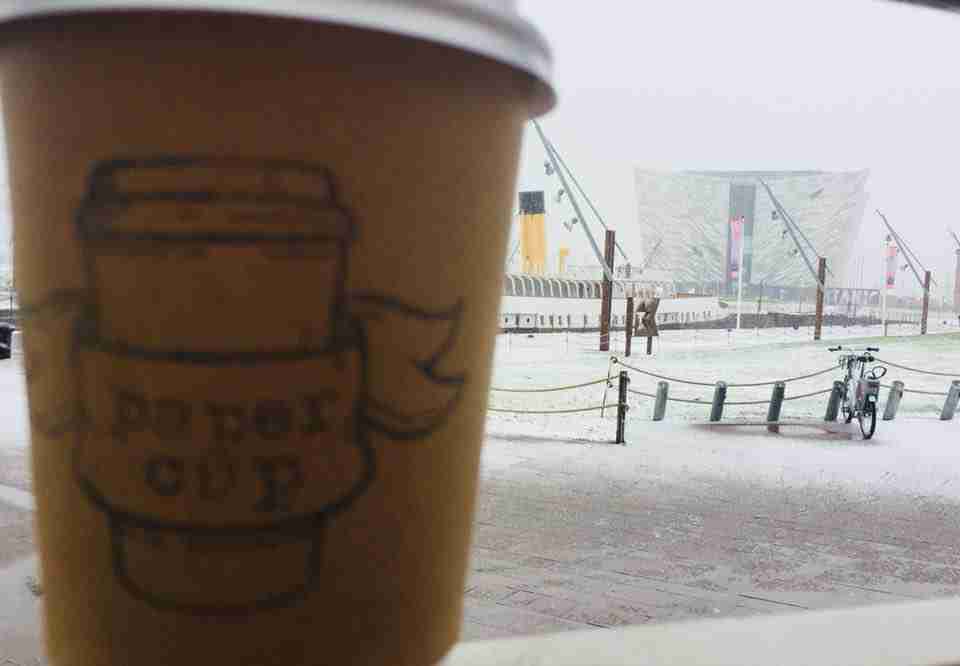 +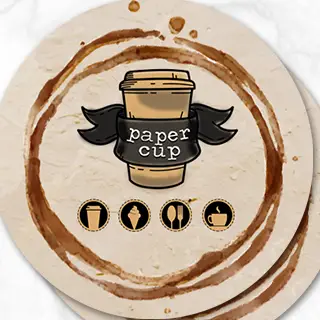 Personally, I still have my doubts, but according to John McKinney, the owner of Paper Cup the Game of Thrones teams will often visit his shop to grab coffee and bagels.
Which Episode of Game of Thrones is there Starbucks?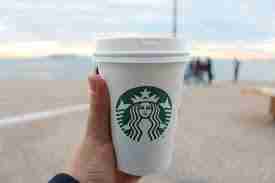 The Starbucks cup can be seen in the fourth episode of the final season, "The Last of the Starks" on a table in House Stark in Winterfell. It breaks the suspension of disbelief for the episode.
It can be seen when the survivors from the combined houses of Westeros gathered together for a night of drinking. They brought out the steel mugs, animal horns, and definitely the Starbucks.
This episode has received mixed reviews and there have been many critics that have scrutinized the episode's writing. Many fans feel like its been rushed.
On the review aggregators Rotten Tomatoes it is 58% positive based on 108 critic reviews with an average rating of 7.01/10. Shirley Li from The Atlantic said there was nonsensical storytelling in this episode. And there were many others that questioned a lot of the story's logic.
Starbucks Made Out Like a Bandit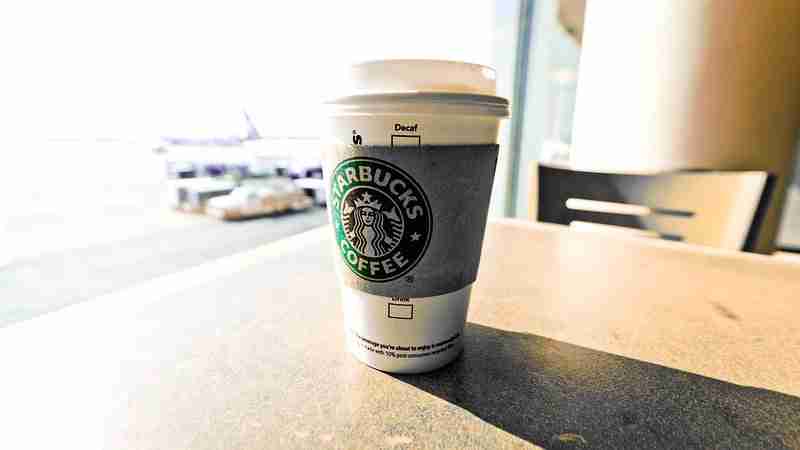 When this episode aired back in May 2019 Starbucks received a ton of free advertising even though it wasn't a Starbucks cup.
Stacy Jones, CEO of Hollywood Branded, and an expert in social media marketing valued the virality of the situation at $2.3 billion dollars. There have been 10,627 counted mentions about the cup of Starbucks online, on TV, and on the radio. There have probably been even more mentions that haven't been counted. This does not include social media and word of mouth marketing.
It is impossible to know the value of the amount of marketing that Starbucks got for free out of the situation. In my eyes it will forever be a meme and despite being edited out will continue living on the internet.
The reason this worked so well is that people immediately associated Starbucks for any type of coffee cup. So even though it wasn't a Starbucks cup, they got to reap all the rewards. The fact that it looked so incongruous to the theme of Game of Thrones garnered a mass amount of attention.
The day the episode aired on May 5th there were 11.8 million viewers. There were an additional 5.4 million viewers that watched on other streaming platforms. In total that makes 17.2 million viers that saw this mistake. Noah Mallin, head of experience, content, and sponsorship at media agency Wavemaker, said any media company will have a hard time ever reproducing this kind of viral organic marketing.
Best Tweets and Memes about Starbucks in GoT
I don't know about y'all, but I love a good meme. Here are some of the best memes and social media posts I found online about this screw up by HBO.
I found where she got the Starbucks cup from #GameofThrones pic.twitter.com/46XztK2QjV

— John Beck (@johnbeck_) May 6, 2019
This fan photoshopped a Starbucks location into the Game of Thrones setting and it perfectly fits. Maybe George R.R. Martin can make Starbucks in Game of Thrones canon and name it Starkbucks.
HBO just released a teaser image of next week's episode of #GameOfThrones pic.twitter.com/0bVZHJ7h8E

— Eric Francisco (@EricFrancisco24) May 6, 2019
Coming soon to Westeros… McDonald's, Taco Bell, and White Castle. The perfect compliments to your Starbucks Latte.
When your show's total budget is $1.5 billion, but there is a Starbucks down the street…
When Game of Thrones finally ends and the winner is Starbucks.
Daenerys is definitely getting her name spelled incorrectly when ordering at Starbucks.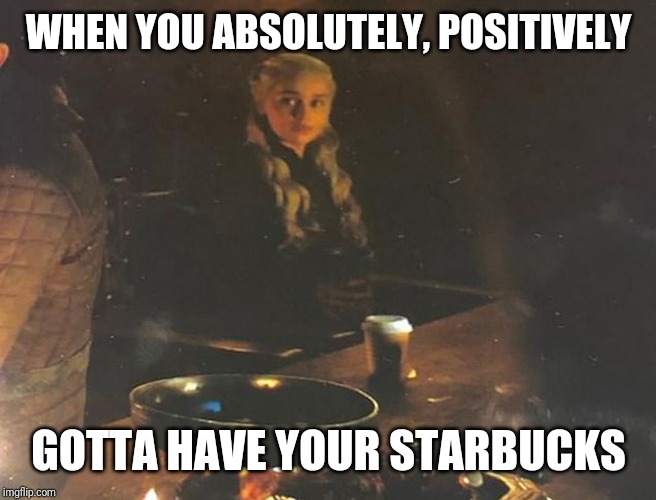 When the Queen wants Starbucks she gets her Starbucks. It is known, Khaleesi.
my favorite show in the entire world forgot a STARBUCKS COFFEE CUP ON THE TABLE WHILE FILMING pic.twitter.com/60z3pOCfg9

— zane (@zane) May 6, 2019
Conclusion
Let us know what you think about the Starbucks memes in Game of Thrones. If you have any funny memes or photos feel free to comment below with them!