When choosing roasted whole coffee beans you will want the highest quality beans. If you aren't buying any of the coffee beans listed on our list you may be missing out on some amazing and delicious coffee. Here is a list of our favourite whole roasted coffee beans.
The best part about whole roasted coffee beans is the large variety of flavours and roasts that you can choose from. There are many different types of beans and many different types of roasting methods resulting in new and unique flavours with every brand. But, this is the problem, which beans should you spend your money on and try? Good coffee beans seem to run out too quickly while the bad coffee beans stay on the shelf forever.
The team at Coffee Informer has chosen our 30 favourite whole roasted coffee beans so you don't have to sift through the hundreds of coffees available for sale.
Quick View – Best Whole Coffee Beans You Should Try
1. Intelligentsia House Blend, Light Roast. Best tasting Coffee Bean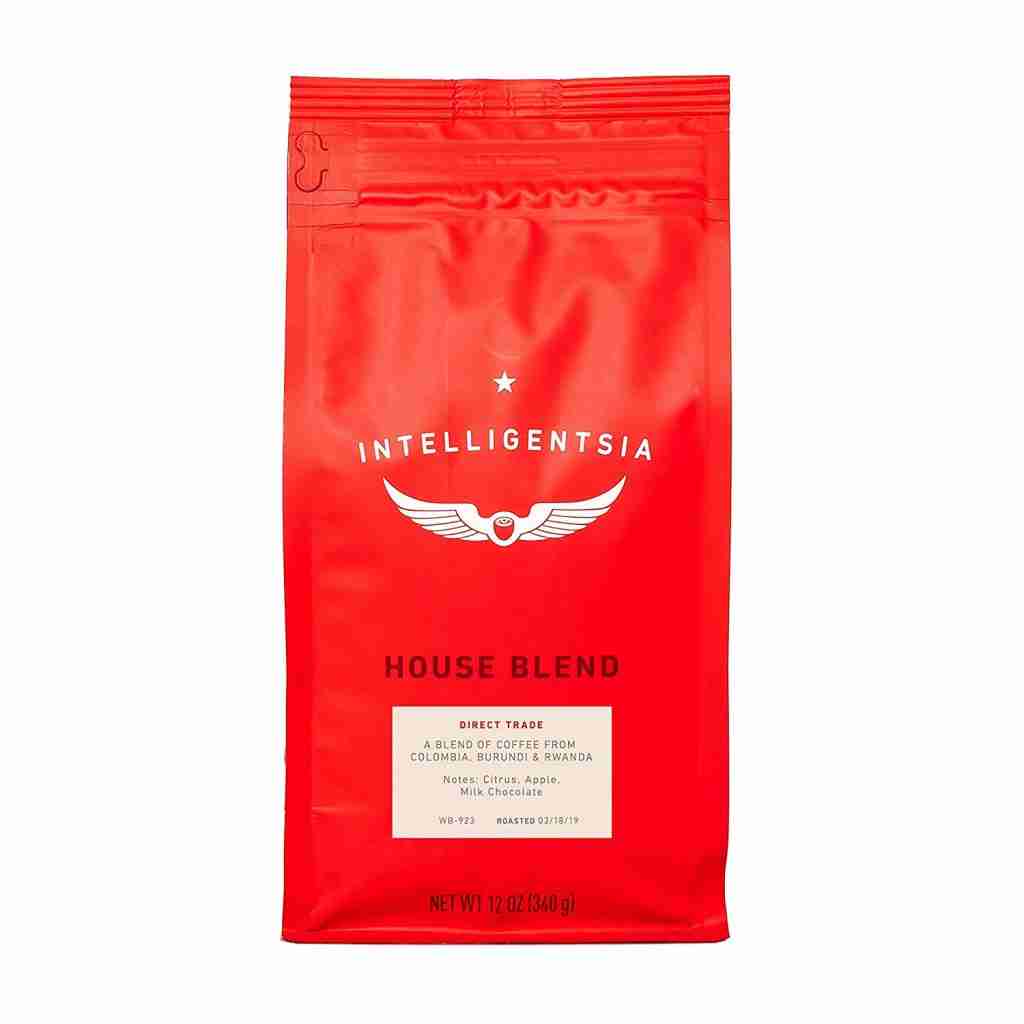 Overall this is the tastiest coffee we have tried and it was the undisputed winner for best-roasted whole bean coffee. This is a very easily drinkable and is the best representation of Latin American coffees around. There is a fruitiness to this coffee that gives it complexity, unlike any other light roast coffee. The flavour profile contains a citrusy flavour with some apple and chocolate notes. It is something you can drink with a sweet dessert after a meal.
You can drink this coffee and feel good about protecting the coffee industry because Intelligentsia created the concept of direct trade coffee and allows the coffee growers to improve the quality of the coffee in the end product. When you try this whole roasted coffee you will be getting the freshness, quality, and flavour that you deserve. Intelligentsia is one of the most loved and influential roasters of our time and has been steadily improving the quality of their products at an affordable price.
2. Stone Street Coffee Cold Brew, Dark Roast. Colombian Supremo
This coffee bean is perfect for cold brew, and cold brew has become increasingly popular. If you make cold brew at home these beans are definitely the go to purchase for me. The benefits of cold brew are more antioxidants, lower caffeine content, less acidity, smoother coffee, and sweeter coffee.
Stone Street focuses on high quality coffee blends and this bag of coffee is a perfect choice for an iced cold brew. It is slightly sweet and chocolaty made from 100% Colombian Supremo beans. This is the most delicious brand we've experience for making cold brews. There are no after tastes or artificial flavorings from this bean and makes plain good coffee.
3. Death Wish Organic USDA Certified Whole Bean Coffee
Death Wish Coffee is often known as "The World's Strongest Coffee", because their beans have almost four times the caffeine as a normal cup of coffee. If you're in need of a coffee high this is the right coffee bean for the job. It is one of the highest rated coffees for sale on Amazon and is highly reviewed with an average of 5 stars.
The customers don't but this coffee just for the caffeine. Death Wish Coffee has a surprisingly intricate and sophisticated flavour. The coffee it brews is smooth with hints of dark chocolate, stone fruit, and cherry. Surprisingly, this coffee is very tasty and is made with organic, fair-trade coffee beans without any artificial additives. At first, we thought these beans were gimmicky, but after trying them it is definitely one of the best dark roasted coffee beans on the market.
4. Volcanica Organic Ethiopian Yigracheffe Coffee Beans
This Ethiopian coffee is uniquely grown in Yirgacheffe, a region in Ethiopia famous for producing extremely tasty coffee. This coffee is grown with traditional growing methods giving these beans an exotic and pleasant acidic flavor that has been associated with good Ethiopian coffee.
The flavour notes in this coffee are very pleasant. It is naturally sweet and fruity. There are notes of strawberry, chocolate, and a floral flavour.
5. Good As Gold Coffee Tanzania Peaberry Whole Bean Coffee
Peaberry coffee is some of the best coffee that you can purchase! Coffee cherries usually have 2 coffee beans inside the fruit and approximately 3 – 5% of these beans are peaberry beans. This means they are small ovals instead of a flat bean like regular coffee.
These beans are rarer and roast better than normal coffee beans. Out of 100 bags of Kona coffee produced there will be only 3 – 5 bags of peaberry coffee beans. The demand for peaberry coffee is increasing because they are rarer and have a smooth texture and non-bitter taste.
6. Lion Toasted Coconut Coffee
We have been fans of coconut flavored coffee for a long time. If you haven't tried coconut coffee you have been missing out. Do not be scared by the artificial flavors because the aromas and nutty taste of this coffee are great!
The coconut flavour in this coffee makes it perfect for adding milk and sugar and is delicious iced and hot. Unlike many other brands of flavoured coffee, this coffee is not overpowering in flavour and retains the core flavours and aromas that make coffee great.
7. Valhalla Java Whole Bean Coffee by Death Wish Coffee
Here is another entry by Death With Coffee and these beans are a blend created for the legendary guitarist Zakk Wylde. These beans are specially chosen to be expertly roasted by Death With Coffee to make an super strong coffee.
This coffee is both smooth and bold and is highly recommended to those who love strong coffees. It isn't very bitter and it can be taken black. It is strong without being overpowering and there is a rich flavour from the super fresh beans. This coffee is not as strong as the regular Death Wish Coffee with the skull on the back, but it does the job. Drink this coffee with pride knowing you are supporting Fair Trade with a superior product that is USDA Certified Organic.
8. Real Good Coffee Co Donut Shop Medium Roast Coffee Beans
Real Good Coffee Co. has been on our radar for a while for the great coffee beans that they collect in Central and South America. These beans are roasted in the Seattle USA, the city with the most coffee lovers. The reason these beans are so great is they are perfectly roasted for a french press, and despite being a dark roast coffee are barely bitter.
These dark roasted beans are USDA certified and perfect for french press, pour over, drip, and even espresso. You won't be disappointed if you try this and you will be left with a cup of coffee.
9. Coffee Bros. Espresso Coffee Beans
I love this coffee brand because of the story behind this coffee roasting company. This company was started by 2 brothers that roasted ethically sourced coffee beans to perfection and swore to never over roast their coffee beans. Most coffee beans on the market today are over-roasted and burnt resulting in harsh bitter flavours.
This espresso roast is roasted to highlight the natural sweetness of the coffee beans and will be full bodied, perfect for espresso and lattes. These 100% arabica beans have great flavor and will be roasted freshly and sent to Amazon warehouses in small batches.
10. Lavazza Super Crema Coffee Beans
Lavazza has been roasting coffee for over 100 years and during that time they have gotten good coffee right. This company has been family-run for 4 generations growing from a small coffee roaster to a worldwide coffee supplier. The Super Crema coffee blend is extremely popular and roasted in Italy, then shipped worldwide.
These beans are perfect for espresso lovers and work great for cappuccinos and macchiatos. This medium roast has a nutty aroma with almonds and slight sweetness. This blend contains Indian Arabica, natural Arabica, and high quality Robusta beans from Indonesia, Columbia, and Vietnam. There is a blend of the world's best beans in this bag.
11. Stumptown House Blend Whole Bean Coffee
Stumptown is a newer coffee company that has been expanding rapidly and have been providing high-quality coffee to their locations. They are owned by Peet's Coffee, which is in turn owned by JAB Holding Company. What makes them special is their atypical purchasing and perks offered to employees. They reportedly paid 3 – 4 times the fair trade price for their beans. By treating the farmers and employees well, you know they will be treating their customers well too.
This house blend is a cup of coffee you can drink all day, every day. There are notes of fruits and chocolate. You can taste cherries and plums, followed by dark chocolate flavors. This is a great example of fine Latin American and East African coffee.
12. Allegro Coffee Organic Breakfast Blend
Allegro has been trying to grow a variety of sustainably grown and ethically sourced coffee blends. These coffees are the finest coffees from around the world.
This breakfast blend is bright and citrusy, exactly what you want to drink when you wake up in the morning. There are also notes of milk chocolate and caramel. The beans are sourced from farms in Latin America and are mixed with beans from Ethiopia. All the beans are from organically certified farms.
13. Kicking Horse Coffee Grizzly Claw Dark Roast Coffee
This is a great coffee that all reviews say is great. Most of the reviews are five stars and praise the flavour. This coffee is not bitter and has a chocolaty flavour. There are notes of caramel and chocolate because it is a dark and rich roast. These beans are great for french press, drip, pour-over, and cold brew. They are also not too oily and work in espresso machines.
14. Bulletproof Keto Friendly Whole Bean Coffee
These coffee beans are an excellent choice for those looking for a clean and bright coffee. These coffee beans, like all coffee beans, are great for a keto diet if drank black. However, according to bulletproof coffee, they have optimized their ability to minimize the number of toxins in their coffee.
As a result, this coffee, made from hand-picked perfectly ripe coffee cherries is a healthy and tasty coffee. This is perfect for healthy thinks and you can use the recipe provided by Bulletproof Coffee to make a healthy coffee drink. You can mix butter or ghee with the coffee to make a high-fat drink to supplement your diet. The coffee brewed has a great body and undertones of caramel without any chemical aftertastes.
15. AmazonFresh Organic Fair Trade Peru Whole Bean Coffee
Amazon has gotten into fresh-roasted whole bean coffee and we aren't disappointed. They have a 100% satisfaction guarantee so if you aren't satisfied they will refund your whole purchase within 1 year of your purchase. However, you definitely won't be disappointed with these beans.
These beans are expertly roasted fresh to ensure the best flavour. The medium roast is carefully roasted to ensure great aroma and flavour. It has a medium body with notes of chocolate and nuts with a hint of brown sugar.
16. Don Pablo Signature Blend Medium Dark Roast Coffee Beans
Cafe Don Pablo's Signature Blend is complex because of the blend of beans from Columbia, Guatemala, and Brazil. This blend of beans is desirable because of the low acidity from the combination. The medium roast with the cocoa aroma and flavour makes it very enjoyable for coffee drinkers and non-coffee drinkers alike. They only use Arabica beans and never mix Robusta beans in their blends so all their coffee blends are extremely high quality and tasty.
If this is your first time buying from Don Pablo you can be assured that they follow fair trade and you will be getting the best and freshest beans available. They also run a Certified Sharing Program and are responsible for planting over 1,000,000 coffee trees in South America.
17. Peet's Coffee Whole Bean Major Dickason's Blend
Peet's Coffee is a speciality coffee roaster and retailer that produces high-quality coffee. Peet's introduced fresh, darkly roasted coffee beans in the 1960s and has since changed the way we drink coffee.
This coffee is guaranteed fresh and definitely worth the steeper price tag. The coffee is dark and complex and has everything we love in a dark roasted coffee. There are no burnt flavours and this is our definite go-to dark roast coffee.
18. Cameron's Coffee Roasted Organic French Roast Coffee
This coffee is another dark roast coffee that is a treat for any coffee lovers. These beans brew a rich, fruity, and smooth cup of coffee. You will be welcomed with a rich coffee aroma and they will be roasted perfectly. This will be bold, not too bitter, and very smooth. A great choice for espresso, french press and all other types of brews.
19. Koffee Kult Thunder Bolt Dark Roast Whole Bean Coffee
This is one cult I wouldn't mind joining. This coffee blend is made from 100% Arabica coffee beans. These beans are earthy, smokey, and slightly sweet with a chocolate aftertaste. This brand of coffee kind of expensive, but there is definitely quality in these beans. This is probably the best brand for french press and it is a coffee with a robust strong body.
20. Seattle's Best Portside Blend Medium Roast Whole Coffee
Seattle's Best coffee provides premium beans that are expertly roasted at a great price. This portside blend is a medium roast with a well rounded and smooth flavour. The best part is while this brand of coffee is cheap, they still provide high-quality beans that have great flavour. You can try their different blends, but you will definitely find something you like with their 10 different signature blends.
21. Eight O'Clock The Original Whole Bean Coffee
Eight O'Clock Coffee has been roasting coffee for over 150 years. They consistently produce and roast great coffee. They only use 100% Arabica coffee beans in their blends and have a passion for making great coffee for their customers. They select the best beans and roast them in small batches so no flavour is lost from roasting to packaging.
A lot of the older generation love this coffee and it is a classic coffee that will bring nostalgia to those whose family members brewed Eight O'Clock while they grew up. This is an extremely smooth coffee with no bitter or burnt flavor. It is very bright and refreshing.
22. Mayorga Organics Cafe Cubano Dark Roast Coffee Bean
Cafe Cubano is the signature blend of Mayorga Organics and they use premium, speciality grade coffee beans. They have a special Latin styled slow roasting process to create a bold dark roasted coffee. The dark roast profile has hints of vanilla, smoke, with a smooth and bold finish. They have built a direct, long term relationship with all the small farmers that they source their coffee from and focus on organic, shade-grown, high-quality, speciality coffees.
23. illy Classico Medium Roast Whole Bean Coffee
These beans are roasted for coffee lovers that want to customize their brewing process and prefer grinding their beans themselves. All beans are carefully selected and blended and roasted to maximize their flavours for the passionate coffee lover. After roasting these beans are pressured packed with Illy coffee's air-free pressurization method to preserve the precious coffee aromas and flavours.
You will taste nine of the finest Arabica coffee beans sourced from around the world in this blend. They are nicely balanced with a great taste and aroma.
24. SF Bay Coffee Fog Chaser Whole Bean
The SF Bay Coffee Fog Chaser is a blend of the best coffee beans from Central America to chase away the morning "fog". All the beans are handpicked, quality, high grown beans resulting in a full body and well-balanced blend of the best Central America has to offer. Tasting this coffee gives notes of milk chocolate, mandarin orange, and toffy with an extremely smooth finish.
25. Kauai Koloa Estate Medium Roast Whole Bean Coffee
This medium roast whole bean coffee is made with 100% Arabica coffee beans. This ensures a high-quality bean and a smooth delicious flavour from your coffee. These beans are grown in the warm pacific sun, rich volcanic soul, mountain rain, and cool trade winds of Kauai to create the perfect conditions for great coffee.
Kauai Coffee provides a bright aroma with floral notes making it a very fragrant cup of coffee. The medium roasted coffee is roasted to perfection and freshly packed with consistency and excellence. The coffee itself is bright and acidic but not sour or bitter with floral, nutty, and sweet flavors.
26. White Monkey Whole Arabica Coffee Beans
This is a blend of predominantly 100% Arabica Colombian Excelso beans with a hint of top-grade Peruvian grade coffee beans. The result is a perfectly balanced, smooth, medium-bodied, and a slightly acidic blend of coffee. All the beans are ethically sourced from the best and finest farms cultivated by skilled farmers in the best growing regions.
27. Black Rifle Coffee Silencer Smooth Light Roast Coffee Beans
The goal of Black Rifle Coffee Company is to provide high-quality, fresh roasted coffee to the pro-2A and Veteran communities. This is a veteran-owned and run company that definitely delivers on this goal.
Silencer Smooth is on another level, it's the quiet professional. It is made with 100% Colombian Excelso beans that are roasted to fit a complex flavour profile. It is not acidic at all. It is as advertised, Silencer Smooth. It is earthy with smokey, and chocolaty flavour notes.
28. Equal Exchange Organic Breakfast Blend Coffee
Equal Exchange is a great coffee company that offers organic whole coffee beans that are sourced from small individual farmers. For over 30 years Equal Exchange has been building this alternative system of trade that helps the small family farmers. This coffee is excellent. There is a creamy mouthfeel with hints of chocolate brownie, roasted nut and caramel.
29. Green Mountain Coffee, Kenya Keurig K-Cup Pods
Puroast coffee is different than all other coffee and it will be a great gift or introduction for those who don't drink coffee often. Their coffee has 70% less acid than other coffee brands making it much easier to drink. They also have 7 times more antioxidants than green tea making them extremely healthy for you. Most importantly the taste. They are not bitter and retain all the natural flavours of coffee.
30. Copper Moon Sumatra Blend Dark Roast Whole Bean Coffee
Copper Moon handcrafts all their coffee and it begins with speciality grade coffee beans from all around the world. These small batches get roasted to ensure they reach their maximum potential for flavour and aroma. This coffee has a great dark roast flavour without the bitter taste that accompanies many other beans. They are packed fresh and will not leave you disappointed.
How to Make Coffee with Whole Bean Coffee
Here are some tips you can use on your next cup of coffee to brew a better cup of coffee with whole coffee beans! This will help you bring out all the best favours of your coffee beans.
Grind your coffee correctly (Burr Grinder)
Most blade grinders will use a chopping motion to break the beans and grind them imperfectly. That means that the coffee grounds you are left with will be all different size and shapes. This results in an inconsistent brew rate and give you either under-extracted coffee or over-extracted coffee.
If you are buying whole coffee beans you should definitely using a burr grinder so you can have a more consistent brew and better-tasting coffee. Read our burr grinder guide to learn everything you need to know.
Coffee Grind Coarseness Guide
Depending on how you will be brewing your coffee you will have to grind your coffee to different levels of coarseness. Here are all the different types of grinds and their associated brewing methods:
Extra-coarse grind: This grind should be the size of small pebbles. You can use this grind size for cold brew coffee.
Coarse grind: This grind should be the size of potting soils and you should be able to identify individual pieces of coffee. You can use this grind size for french press coffee.
Medium-coarse grind: This grind should be the size of rough sand. You can use this grind size for Chemex coffee.
Medium grind: This grind should be the size of fine sand. You can use this grind size for Aeropress Coffee.
Medium-fine grind: This grind should be finer sand in between sand and sugar. You can use this grind for pour-over coffee and V60 Coffee.
Fine grind: This grind should be like sugar. You can use this for espresso and for Bialetti stovetop espresso.
Extra-fine grind: This grind should be like powdered sugar. You can use this to brew turkish coffee.
Conclusion
This article lists all 30 of our favourite coffees. Let us know what you think of our rankings and if you have any coffees you think should be on this list! If you have a Keurig machine check out our blog article about our 30 favourite K-cup flavours!
It is great to see so many coffee roasters producing high quality sustainable coffee beans that are unique and delicious. This is our list of our favorite whole coffee beans and brands. Please comment below if you tried any of these beans and your thoughts!