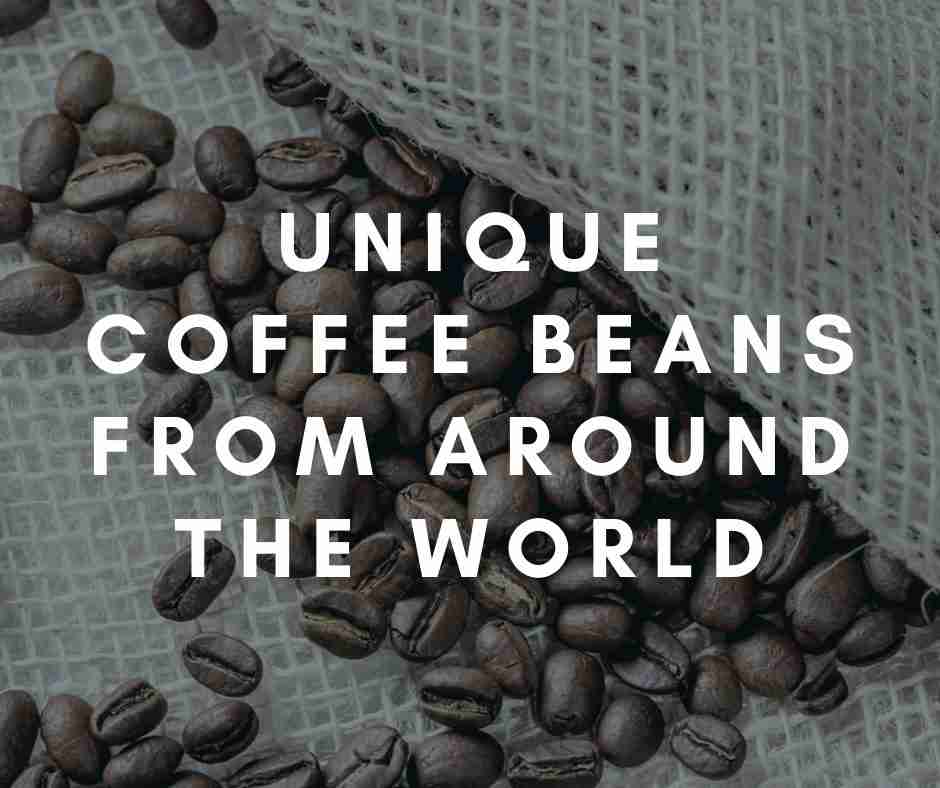 The internet is replete with tons of tips about how you can improve your coffee experience, but none of those tips will help without good coffee beans. Any true coffee lover will readily agree that no two types of coffee are equal; it's why we have so many to choose from.
When it comes to selecting a coffee bean, it's essential to keep in mind if you don't pick the best, it's unlikely that you will brew fantastic coffee. The quality of the coffee beans you choose determines the flavour, aroma, and overall experience that you will enjoy.
If you're looking to shop for some unique high-quality coffee beans from all corners of the world, this list is for you. Are you ready to treat yourself? Let's get started already.  
1. Tanzania Peaberry Coffee
Most coffee cherries contain two beans side by side, each with a flat side. Peaberry coffee is rare as only 10 percent of all coffee develops with a single, round coffee bean inside the cherry, making the Tanzania Peaberry coffee unique.
While peaberry is cultivated in different regions of the world, none is as famous as the Tanzania Peaberry coffee. It is a unique African coffee varietal grown on the fertile volcanic slopes of Mt. Meru and Mt. Kilimanjaro, featuring a medium body and refreshing fruit-toned acidity.
There are many reasons why the Tanzania Peaberry coffee is considered to be of superior quality, with the foremost being that its brighter acidity and flavor. It has a deep and rich taste, with hints of black currant, chocolate, and wine flavors. You might want to blend it with milk if you find it is slightly bitter.
If you're fainthearted, you might want to look elsewhere as this coffee is rich, intense, and strong. This Arabica coffee is sure to give you the kick you need on sleepy mornings.
Try this coffee now by buying 100% pure Tanzanian Peaberry Coffee from the slopes of Mount Kilimanjaro from Volanica. This coffee is only for the most discerning coffee aficionados because it is the best of the best.
2. Hawaii Kona Coffee
 Original Kona coffee is highly sought after all around the world, due to its full-bodied flavor and pleasing aroma. Its superiority can hardly be disputed, with Forbes voting Kona coffee as the best coffee in America.
Being highly graded, Kona coffee is only regarded to be genuine only if it is grown in the North and South districts of Kona on the big islands of Hawaii. The reason is that other beans are available from the Hawaiian chain of the island, but they lack the rich, smooth taste of true Kona beans.
Due to its high-quality, you will need to pay a premium as true Kona is quite expensive. As far as aroma goes, Kona coffee is mild and smooth with vibrant acidity, but keep in mind that you will only get the best if you avoid Kona blends. Such products only contain about 10 percent of true Kona.
This coffee is a treasure and is among the best single origin, high volcanic mountain grown coffee beans. These beans are roasted perfectly to maximize the flavor of the Hawaiian Kona coffee beans.
3. Nicaraguan Coffee
 Nicaraguan coffee has always been around but was unrecognized for several decades. However, it is beginning to gain prominence. The coffee is cultivated from plants that primarily consist of Arabica varieties, with various mild flavors including vanilla, pear, chocolate, and pie crust.
Grown at altitudes between 3600 and 5250 feet above sea level, the coffee from this country is high in quality and complex in flavor. Reviews indicate that a typical Nicaraguan coffee delivers rich yet subtle flavors, balanced sweetness with a nutty bouquet that often exhibits notes of vanilla.
Although the country shares borders with other coffee producing regions, its coffee remains quite distinct in terms of flavor and taste. Nicaraguan coffee is organically grown, but it is not certified as the farmers as too poor to pay certification fees.
This coffee is a sultry, bold dark roast Nicaraguan coffee. This coffee is also the world's first negative carbon coffee because they will donate a portion of their profits to fund reforestation.
4. Sumatran Coffee
 If you have been roaming through premium coffee recently, the chances are high that you have across the mention of Sumatran coffee. It often rated as one of the finest gourmet coffees, which is quite unsurprising since Starbucks is a major purchaser of the Sumatran beans.
What is it that makes the Sumatran coffee stand out? Many things! For starters, it adopts a unique processing method, known as wet hulling, with the effects being a flavor that's been best described as herbaceous, earthy, spicy, mild, mushroomy, funky and more. It all depends on who you ask!
Nonetheless, the aging process can sometimes yield terrible and other times, extraordinary results. The coffee also has a complex aroma, as well as low brightness and acidity. If you are sensitive to acidic coffee, the Sumatran coffee might just be the right choice for you. Overall, this is one coffee that you will either love or hate.
This is an organic Sumatra bean with a well rounded rich flavor. Cooper's Cask Coffee is a USDA Certified Roasting Coffee with a smooth woody, earthy, dark chocolate, and dark cherry flavor.
5. Sulawesi Toraja Coffee
Ever wondered what great Indonesian coffee tastes like? The Sulawesi Toraja coffee has the answers you need. Formerly known as the Celebes, this multi-dimensional coffee is grown in the southeastern highlands of Sulawesi.
A good Sulawesi Toraja coffee is well-balanced with undertones of ripe fruit and dark chocolate, making it the perfect challenge for any coffee lover looking for an adventure. You will be able to smell the nuttiness of this freshly-brewed coffee from at least 50 feet away.
Sulawesi Toraja coffee generally tends to be very full-bodied with low-toned yet vibrant acidity. If you hate bitter tastes, this coffee is for you as its bitter aftertaste appears to magically disappear in a matter of milliseconds, leaving a pleasant sweet sensation on your tongue. For this coffee, a dark roast is recommended.
This coffee is part of the Rainforest Alliance that is certified to protect the farmers, wildlife and environment. These beans are smooth and have a sweet balanced aftertaste.
6. Mocha Java Coffee
You've probably heard of Mocha Java and thought of it as a sweet combination of coffee and chocolate. It's not really the case. The Mocha Java is the outcome of the partnership of Mocha, a port in Yemen, and Java, an Indonesian island. The two regions came up with the idea of blending their coffee beans to form one amazing flavor.
In effect, the Mocha Java combines the lively intensity and pleasant wildness of the Yemen Mocha and the clean and bright smoothness of the Java coffee. The result has been praised by coffee aficionados around the world, which is a strong berry and citrus flavors alongside herbal gamey notes.
This is an exotic blend that features the fruity flavours of the beans of East Africa mixed with the sweet beans of Indonesia. This will brew coffee that has a fruity, chocolatey, and spicy flavour.
 7. Ethiopian Harrar Coffee
Spicy, fragrant, and heavy-bodied, the Harrar coffee is a grade of 100 percent Arabica coffee. The Ethiopian Harrar coffee is grown at high altitudes in the Harrar region, which is on the eastern side of Ethiopia.
The coffee is considered to be one of the best coffees in the world, and it is well known for its winey and fruity texture and taste. Many agree that it has a rich body, room-filling aroma, and a crisp finish with pleasant acidity.
A good Harrar is bold and edgy with a display of very rich, dark chocolate tones. It is particularly suitable as a post-dinner coffee.
These beans will be a great choice for espresso because of the blueberry and apricot notes. These beans are grown on small farms in the Oromia region that was formerly Harrar in Southern Ethiopia.
8. Ethiopian Yirgacheffe Coffee
 Grown close to the home of the first coffee bean, the Yirgacheffe coffee is a well-known name among the global coffee community. It has a distinctive flavor profile that's characterized by an intense and clean taste with a complexity of floral notes coupled with a hint of juicy pomegranate. You can expect to experience the following flavors when you sip Yirgacheffe coffee: berries, nuts, chocolate lemon, and wine.
The best Yirgacheffe coffee displays a bright acidity along with a light-bodied flavor delicious profile. If you don't like strong coffee flavors, the Yirgacheffe is for you as it is mild with a vibrant aftertaste. Try a medium roast or something darker for a tasty shot and a brighter acidity.
This is a delicious coffee and is not bitter due to the lighter roast. Great beans at a fair price with high quality and consistency. The light roast provides a smooth body with a moderate acidity.
9. Guatemalan Antigua Coffee
 Guatemalan Antigua coffee is a favorite among coffee fanatics and a premium coffee. As a result, you will have to pay handsomely to purchase this coffee, but you can rest assured that you will be getting good value for money.
It is grown in the Antigua Valley of Guatemala, a region that consists of high altitude and loamy soil that makes it possible for the creation of one of the finest single-origin coffees in the world.
The coffee bean is medium-bodied and exhibits a subtle cocoa-like texture and a spicy taste often rich and velvety. Cup after cup, you will get a consistent flavor that includes lemon, chocolate, and soft spices with an elegant mouth-feel unique to this region.
This is a single batch roasted coffee for the best flavor and freshest coffee. These beans are gluten free, allergen free, non GMO, and handcrafted / roasted. Each bag is unique and smooth, high grade coffee.
10. Kenya AA Coffee
Regarded as one of the best coffees in the world, the Kenya AA coffee enjoys a celebrated reputation for its bold and distinctive flavor. Its bean boasts the largest bean size, which is considered by many to be a sign of quality. It's processing also makes it one of the cleanest-tasting in the world.
A fine Kenya AA coffee displays a full body with a complex, intense fruity taste. Expect to get hints of tropical fruit and berries alongside a winey finish that is tempered by bright and refreshing acidity. This is an exquisite coffee with a bold, lively personality, and this characteristic is one that is sure to leave you smiling with each cup.
These are 100% pure Kenya AA coffee beans with a vibrant acidity, fragrant aroma, and a taste of wine in the aftertaste. There are berry and citrus notes that come through due to the medium roasted beans.
Wrap-up
If you haven't tried any of these 10 unique coffees listed above, you are missing out on truly delicious coffee. The list above caters to a wide range of preferences, including a strong tasting expresso and refreshingly floral filter. So go ahead and shop for any of the above so you can have a full experience.