As a coffee enthusiast who has been drinking coffee for over 5 years, I've picked up a few things about brewing better coffee that I can share with you to help you brew better coffee. I've learned a lot from trial and error as well as research with a lot of ruined batches of coffee along the way. If I had known what I know now I wouldn't have to think about all the incorrectly brewed cups of coffee I have drunk.
I'm no coffee pro, but as a coffee addict, I am confident in my knowledge. I want to share the basic, fundamental techniques about coffee that I've been taught and learned through my coffee journey. I learned these details about coffee beans and by putting more effort into brewing better coffee, my enjoyment of coffee has exponentially improved.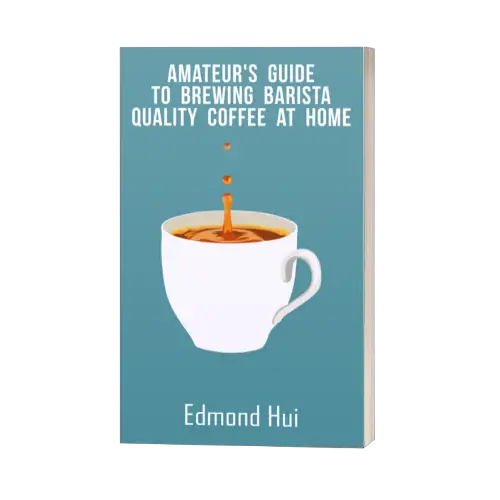 I really like this book. It's packed full of information, techniques, and beautiful artwork. As an "intro to" book, it more than satisfies its purpose.
Have you ever wondered:
How do I brew better coffee?
Am I correctly grinding my coffee beans?
What coffee beans are right for me?
What is the best brewing method?
How do I maintain my coffee equipment?
If you answered YES to any of these questions above then the Amateur's Guide to Brewing Barista Quality Coffee at Home is for you!
WE ARE RATED 5 STARS ON AMAZON BY SATISFIED CUSTOMERS!
This book is an eBook which is delivered in a PDF format for download and NOT a hard copy book. You can download it and easily print and bind (at your own expense).
The Brewing Guide will be constantly updated from information posted on Coffee Informer and contains exclusive material that cannot be found on the site. Newer versions will be provided to purchasers for free and emailed when updated. This book contains brewing guides that you can download and print off to make your own simple brewing guide for your morning coffees. This 55 page manual will answer all the practical questions you may have about coffee.
Why Should You Buy This Book?
Life is too short for bad coffee. Using the Amateur's Guide to Brew Coffee you can have a step by step guide the new time you are brewing coffee. You can also refer to the section in the book when choosing your coffee beans, grind size, and much more.
By learning the fundamental coffee knowledge you can improve your coffee and become immersed in the world of coffee. The step by step brewing guides covers most popular brewing methods including drip coffee, AeroPress, manual espresso, and cold brew. See the breadth of knowledge provided by this book today.
Topics Covered
Understanding Coffee – Chapter 1
Benefits of Coffee – Chapter 2
Types of Coffee Beans – Chapter 3
History of Coffee – Chapter 4
Roasting Coffee – Chapter 5
Grinding Coffee – Chapter 6
Brewing Coffee – Chapter 7
Coffee Recipes – Chapter 8
Espresso Guide – Chapter 9
Coffee Tips & Tricks – Chapter 10
Alternative Brewing Methods – Chapter 11
Tasting Coffee – Chapter 12
Storing Coffee – Chapter 13
Cleaning & Maintenance – Chapter 14