If you're looking for a new single-serve coffee machine, there are two prominent choices: Keurig and Nespresso. In most events, it's tough to tear each of these apart as they both have a solid fan base. But who has been crowned the champion of pod coffee machines? To better understand who wins the battle between Keurig vs. Nespresso, read below:
| | |
| --- | --- |
| Advantages for Keurig | Advantages for Nespresso |
| Keurig has a vast range of models to choose from, around 80 to be exact. | The build quality of Nespresso is impeccable, and nothing compares to it on the market |
| Compared to Nespresso, the coffee machine and pods themselves are much cheaper | Although Keurig machines and pods are cheaper, they don't hold the same quality as Nespresso. |
| The more expensive machines from Keurig have a brewing range of 6 to 60 oz. | All pods that Nespresso supplies are entirely recyclable. |
The above is just a tiny brief overview of the advantages that both coffee machines have. However, the battle cannot end here. To decide the true crowned winner of pod coffee machines, we must dive a lot further.
If you're stuck between Keurig and Nespresso, then you need to become familiar with the below. Here, I break down each coffee machine brand into eleven essential categories. Want to find these out? Read the following: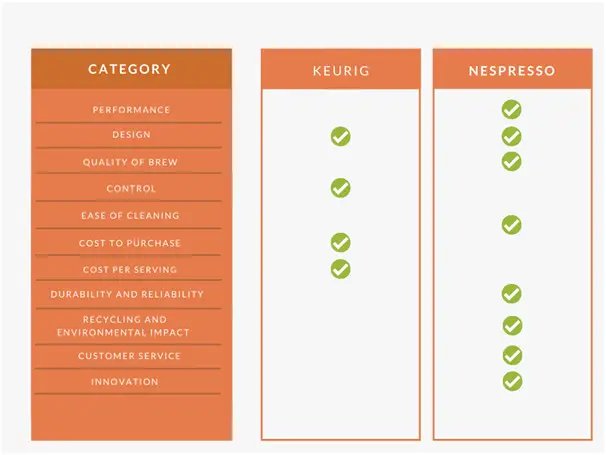 Keurig Vs Nespresso: What machines are we comparing?
Before we get into this fascinating topic, let's first introduce you to both Keurig and Nespresso. This way, you're able to gain better visualization of both the companies.
The debate between both Keurig and Nespresso has been forever ongoing since both companies were founded. Both the coffee brands deliver superb machines, and you can't really go wrong with either. But, because of this, it makes it very hard to determine which is better.
Throughout this post, we're going to target Keurig's and Nespresso's most famous single-serve coffee machines: these are called the Nespresso Vertuo and the Keurig K-Café. Needless to say, they do have various other models, especially Keurig. But, to make this Keurig vs Nespresso battle fairer, this was the best way to achieve it. However, what makes the Nespresso Vertuoand Keurig K-Café coffee machines so unique?
For Keurig, their number one seller is the K-Café. It's self-evident why this machine does so well in today's market. This is because it's reasonably priced, simple to use, and provides users with great-tasting coffee.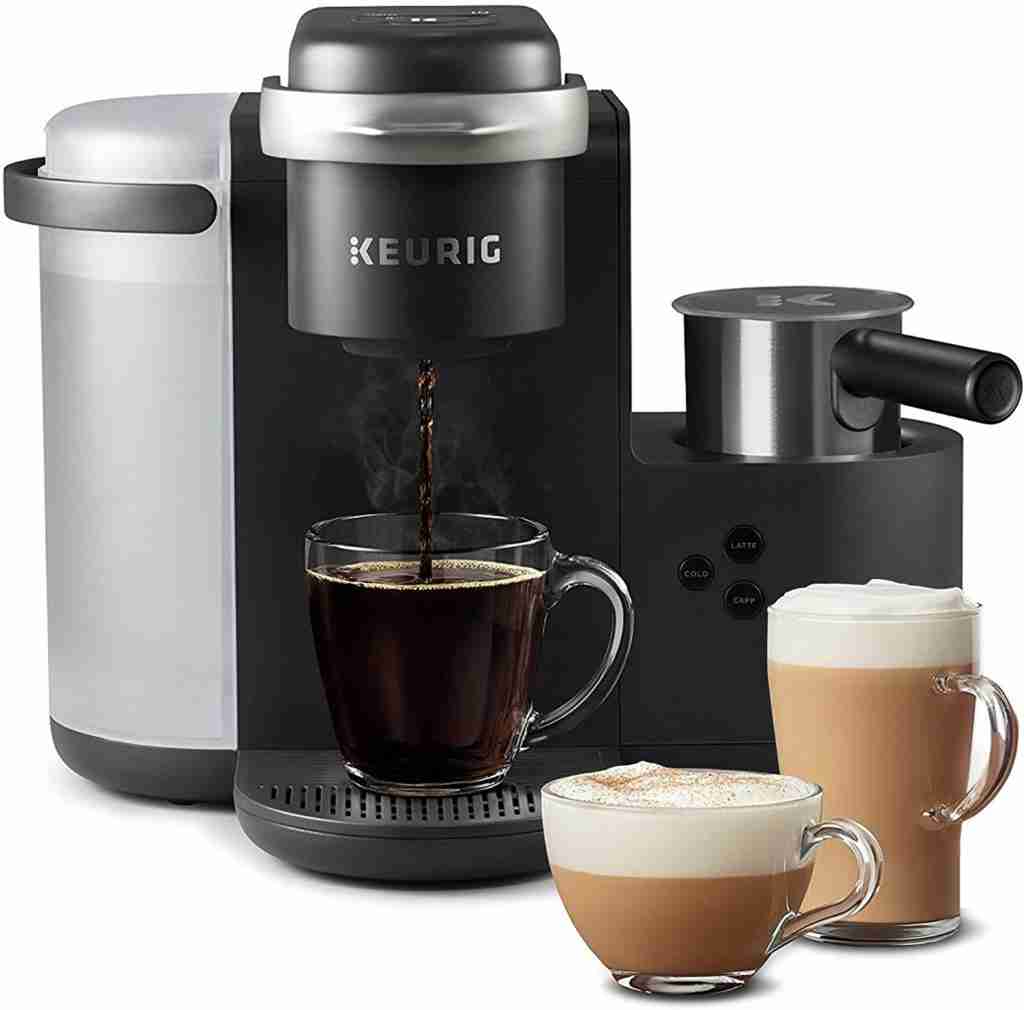 The K-Café also comes equipped with a portable frother. With this, you're able to create milk-styled coffees like a cappuccino, or latte, etc. Something else which is worth noting is that the K-Café has a 60-ounce water reservoir. This is quite substantial for a single-serve coffee maker, and it's estimated you'll easily brew around six cups of coffee. Check out the price on Amazon if you are interested!
Whereas for Nespresso, their leading model is the Vertuo. It's clear why though, the model itself looks rather ascetically pleasing to the eye, it's easy to operate and comes with some of the most renowned coffee pods.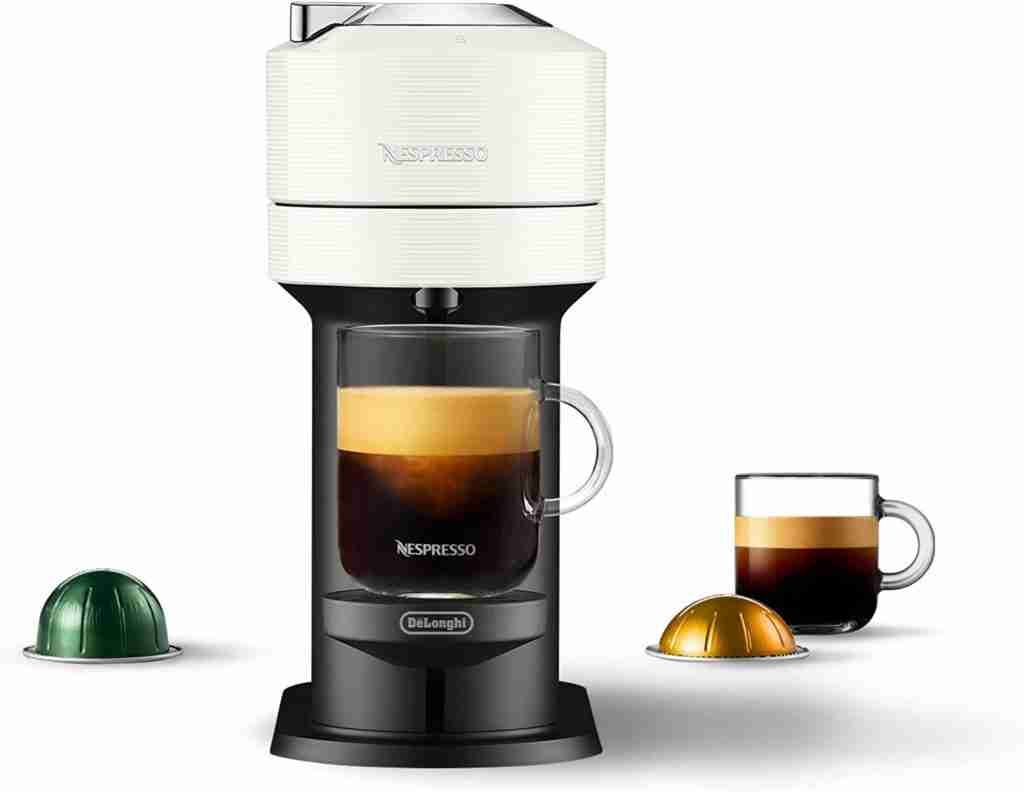 To operate this coffee machine, you'll simply have to push a single button. From here, the water will be heated and trickled into your coffee cup. Unlike the Keurig K-Café, the Nespresso Vertuo doesn't come with a frother. However, as an additional extra or package deal, you can purchase the Aeroccino. If you're a latte or cappuccino person, this attachment is necessary. Check out the price for the Nespresso Vertuo on Amazon.
Now you've had a brief introduction to what coffee machines we are comparing, let's get into the juicy bits. Want to find out which pod coffee machine is better? Read below:
Keurig vs Nespresso: The pod coffee machine showdown
We wanted to make this Keurig vs Nespresso comparison a one-stop post for all individuals looking to invest in one another. We decided to crown the winner between the Keurig K-Café and Nespresso Vertuo in the categories below to make this more comprehensive and knowledgeable.
Performance
Design
Quality of brew
Control
Ease of cleaning
Cost to purchase
Cost per serving
Durability and reliability
Recycling and environmental impact
Customer service
Innovation
Without a doubt, this is quite a lot of them. But, because they're so similar to one another, we needed to execute it this way to clarify a winner. Here's how each of them performs:
Performance
The first and most prominent category I wanted to mention is performance. It goes without saying that when brewing pod coffee, performance is a crucial denominator to whether or not you want the coffee machine. But which brand wins in performance?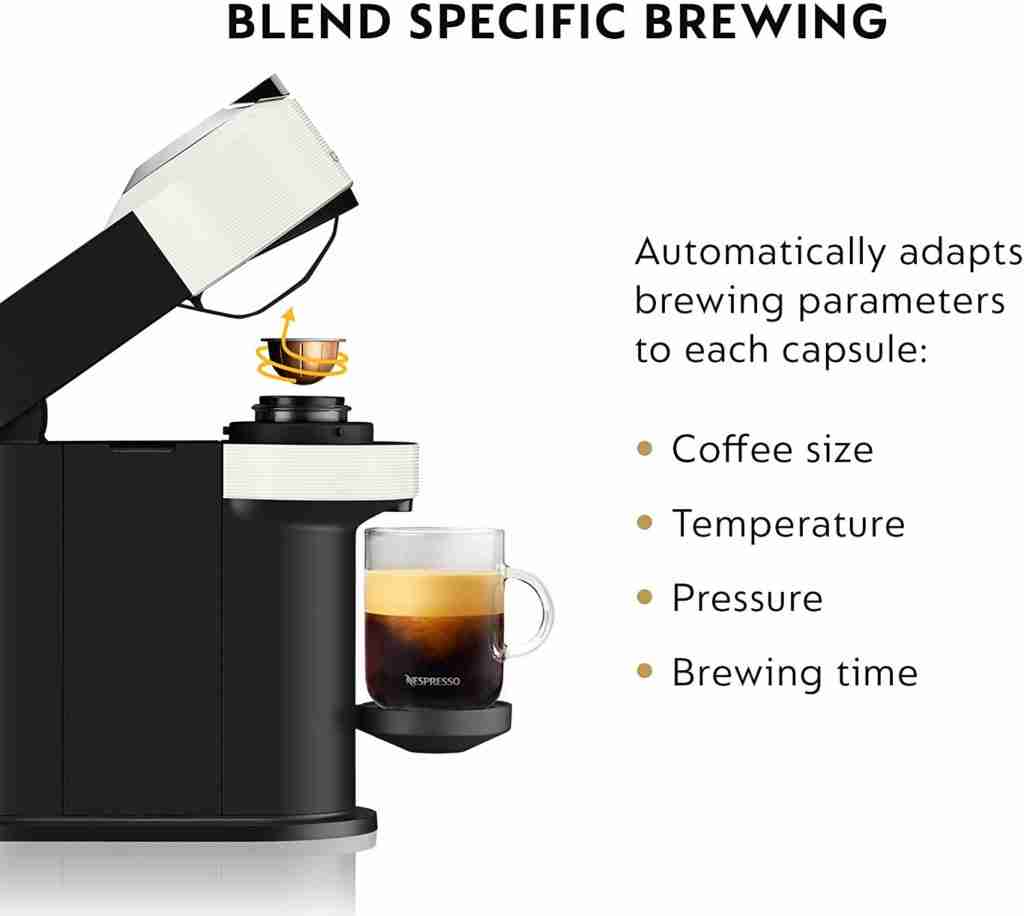 Nespresso is well-known for its build quality and performance, so they're the crowned winner. But, let's discuss why their the best in performance.
Performance is measured in numerous categories. These are:
Readily available features
Ease of accessibility
The overall quality of the brew
Nespresso Machines are primarily European-styled espresso makers. Because of that, they come with smaller water reservoirs. But, if you can bypass that, you'll receive a much better-performing coffee machine.
The main features that really put the Nespresso Vertuo ahead of the Keurig K-Café are the following:
If you purchase the packaged Nespresso Vertuo, you'll receive an excellent milk frother that actually works.
A simple to use and easily readable custom size selector.
Professional and sleek design that'll look flawless in any home.
The brewing ability is consistent and great tasting.
Generally, it's much smaller,allowing you to place other kitchen items on your countertop.
Design
Following on from the size and looks is the design category. Although the Nespresso Vertuo wins in the performance category, I must say the designs of each machine are difficult to determine. Because of this, here's the winner:
Yep, a tie. Both the Nespresso Vertuo and Keurig K-Café look excellent, and it depends on your kitchen's color scheme and preferences. Most, if not all, Nespresso machines have a black appearance. Whereas with the Keurig, silver.
Both machines are practical and sturdy for all household use. Although each machine is covered in plastic material, you'll be surprised with the quality look they provide.
The main reason I put this category in a tie was because of this one single cause. The Nespresso machine is much smaller than the Keurig. However, I noticed that the Keurig was a much more sturdy machine. These two positives and negatives made it extremely difficult to tear each of these machines apart.
Although the design is significant for most individuals, there's one extremely major category we need to touch on. Yep, you guessed it. This is the quality of the brew. Let's find out which one is the best.
Quality of brew
Many people looking to invest in a coffee machine don't care about design, compatibility, performance, anything, apart from the quality of brew which the machine can offer. Here's the winner:
Winner – Nespresso Vertuo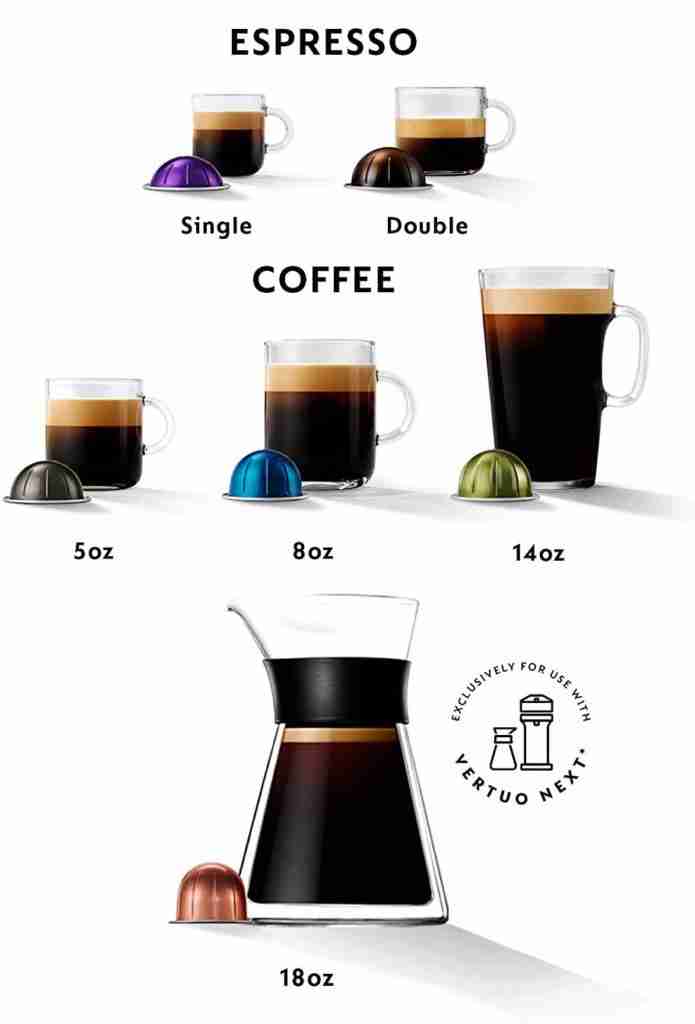 The most noticeable difference between the Nespresso and Keurig machines is the quality of brew they can provide. It goes without saying that Nespresso is the undisputed champion of providing quality brews.
Not just from the process but also the capsules. The main reason for this is that Nespresso is owned by Nescafe, the king of capsulated coffee. However, when this is partnered up with the Nespresso Vertuo, it's an unbeaten combination.
This is because the Nescafe pods are rich, strong, and tasteful capsules are spun around 7,000RPM, using extraordinary technology. It ensures hot water and coffee pods blend seamlessly to offer you a great-tasting coffee.
If you're solely looking for a coffee machine that'll offer great tasting coffee each time you use it, the Nespresso Vertuo, and just Nespresso in general, should be your number one choice. However, if this doesn't bother you and you're looking for more additional features, read below:
Control
Apart from the above, many coffee lovers are interested in their control over the coffee machine. And, this one is fascinating.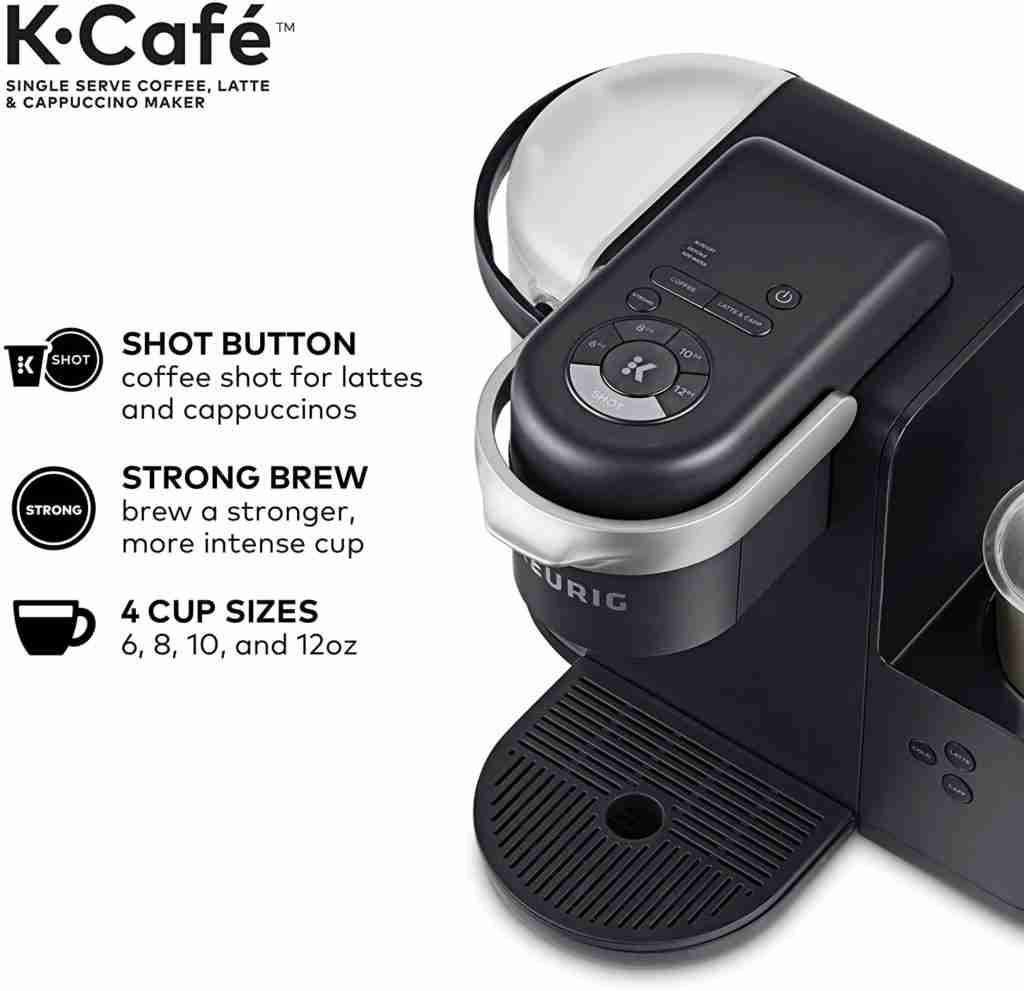 Don't get us wrong, the Nespresso machines are excellent. However, one thing they lack is control. This is because all of their machines follow a simplistic design. Therefore, to brew a coffee with a Nespresso machine, you normally have to press a singular button, and that's it. But, from abiding by this type of system, you lack control.
Because of the above, I've chosen the Keurig machine as the winner for control. With this machine, you can set several different features that allow you to alter the machine's "standard" processes into something you desire more.
These features include choosing the strength of the brew and the amount of water used during the brewing process. It also includes special features like a "strong" setting. This allows coffee drinkers that like strong and authentic tasting coffee to do just that. Included with this, you also won't be stuck with just brewing podded coffee. Instead, you're able to use ground coffee with the help of a permanent filter. From Keurig implementing this feature into their machines, you're given much more flexibility with the coffee strengths and brew type.
Ease of cleaning
Another essential element that you'll want to consider before investing in a coffee machine is the ease of cleaning. For this category, I carefully picked the following:
Winner – Nespresso Vertuo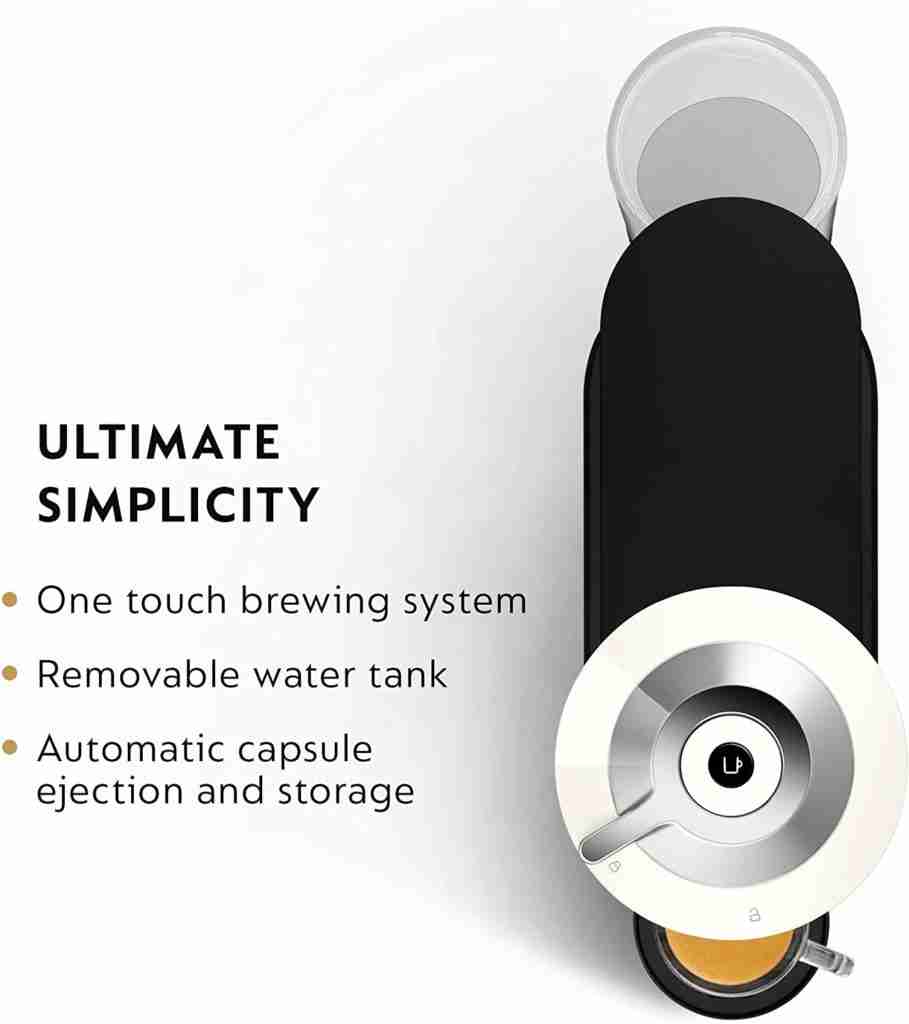 Regardless of what machine you purchase, neither are extremely difficult to clean as they're only single-serve coffee machines. However, if you were to compare both, there are some minor advantages that Nespresso offers. This includes:
A de-scaling mode, to clean pipes and important brewing parts which aren't accessible with your hands or cleaning tools.
Simple pod assembly, meaning the pods don't clog up during the entry and exit.
The above features are superb when it comes to the ease of cleaning. To gain better visualization of how to clean this machine, here is a breakdown of what you need to do:
First, you'll want to wipe down the exterior of the coffee machine with a soft sponge or non-abrasive cloth.
When you've achieved this, remove all detachable components. This includes such things as yourpodcatcher and frother.
You'll then want to clean these in a sink.
You should perform this clean every week. But, you'll want to de-scale the machine once every three to six months. You'll want to achieve this with either a de-scaling solution or a mixture of water and vinegar for optimal results.
Cost to purchase
When it comes to purchasing a machine, you're met with an array of different pricing points. Some coffee machines are just double figures, and others quadruple. However, if you were to compare both of these machines of being the cheapest, this will be the winner:
Keurig being the winner of this category was no surprise. Nespresso is a much more expensive option for one reason, because they're well-known worldwide.
Cost per serving
Arguably another essential category is the cost per serving. It's clear that coffee can undoubtedly burn a hole in your pocket if you're not careful. According to this post, people aged between 25 and 32 years of age spend a whopping $2,008 on coffee per annum. This number is shocking and is probably from all them takeaway coffees. To reduce this liability cost, investing in a home coffee machine is superb. It doesn't just save you money, but also valuable time spent walking to the coffee shop.
If you're not familiar with coffee pods, let me say one thing, Nescafe. Anything branded Nescafe is top market. To better compare the cost per servings, view the below:
Nespresso has two make capsule lines and depending on your machine and taste, you may prefer one over the other. These are their prices:
OriginalLine – $0.75 to $0.85 per capsule
VertuoLine- $0.90 to $1.40 per capsule
Although there are third-party capsules, you may struggle to obtain them with a Vertuo machine. This is because it comes equipped with a capsule-scanning system. Nespresso implemented this to ensure nobody can use capsules other than theirs in the machine.
However, note that this isn't for all Nespresso machines. If you were to opt-in for an OriginalLine machine, it doesn't include a capsule-scanning system, meaning you can use third-party coffee pods.
Whereas with the Keurig K-Café, you'll be met with five different capsule types. Although some are more expensive than the above, you can also choose the cheaper ones if you're on a budget. Here's what they're.
K-Cup – $0.35 to $0.65 per capsule
K-Mug – $1.40 to $1.60 per capsule
K-Vue – $0.85 to $1.10 per capsule
K-Carafe – $1.75 to $2.25 per capsule
Rivo – $0.85 to $1.40 per capsule
As you can see, you can either opt-in for the more premium capsules, the K-Carafe, or some highly inexpensive pods, the K-Cup.
Durability and reliability
Moving further down the list, which leads us to durability and reliability. If you're going to purchase a coffee machine, this is something you'll want to achieve. Therefore, the winner is:
Winner – Nespresso Vertuo
Undoubtedly all Nespresso machines are much more durable and reliable than Keurig's. Not just that, Nespresso also offers a much better warranty for their machines. For all Nespresso machines, you'll receive a 2-year warranty. Whereas with a Keurig machine, this is only a mere one.
Apart from warranty length, their country of origin is much different. Nespresso machines are manufactured in a country known for their quality workmanship, and this is Switzerland. However, with Keurig, this is much different. Keurig machines are manufactured in China.
But, in all honestly, you pay for what you get. In this event, because you pay more for a Nespresso machine, you also equip a much better warranty, place of origin, and durability.
Recycling and environmental impact
Although coffee pods can come across as "harmless" for our planet, you couldn't be more wrong. According to the director of Greenpeace USA, John Hocevar, coffee pods are one of the most unnecessary single-use plastics causing pollutants. Although all coffee pods are bad for the environment, I had to declare the following winner:
Winner – Nespresso Vertuo
As we're aware, when using the Nespresso Vertuo, you have to use capsules suited for their machine. Although environmentalists are urging coffee companies to develop more planet-friendly pods, many haven't accomplished this yet.
However, Nespresso has started making a change through its Ecolaboration Program. Which, in short, is a recycling program for both Canadians and Americans. If you're Canadian, you'll be able to recycle your capsules in a specially designed recycling station. Whereas in the United States, you have a mail-back system in which you're able to recycle your pods.
Customer service
Something else which is very important for many coffee users is customer service. It goes without saying, that if you need help with a warranty repair/replacement, instructions, or anything else for that matter, you expect a prompt and professional response.
The machine type doesn't matter in this instance, but Nespresso definitely has the more prestigious customer service. Naturally, many people would say Keurig's customer service is better because they've been around for longer. However, because of their popularity and infrastructure, it isn't the case.
Don't get us wrong, Keurig does offer exceptional customer support for fixtures and common queries. But, because of the popularity of Keurig, you can expect to experience much longer wait times when contacting them through email or telephone.
Although this isn't very important for most people, as typically merchants can handle any issues that may occur, it's always good to know which brand has the more supporting customer service. At the end of the day, not all machines will be perfect right out of the factory. Because of this, you may need to use customer support now and then to express your issues.
Innovation
One last thing I wanted to discuss was the overall innovation of coffee equipment. Without a doubt, you'll want to invest in a company that's growing with technology. This way, you can purchase new up-to-date machines and accessories.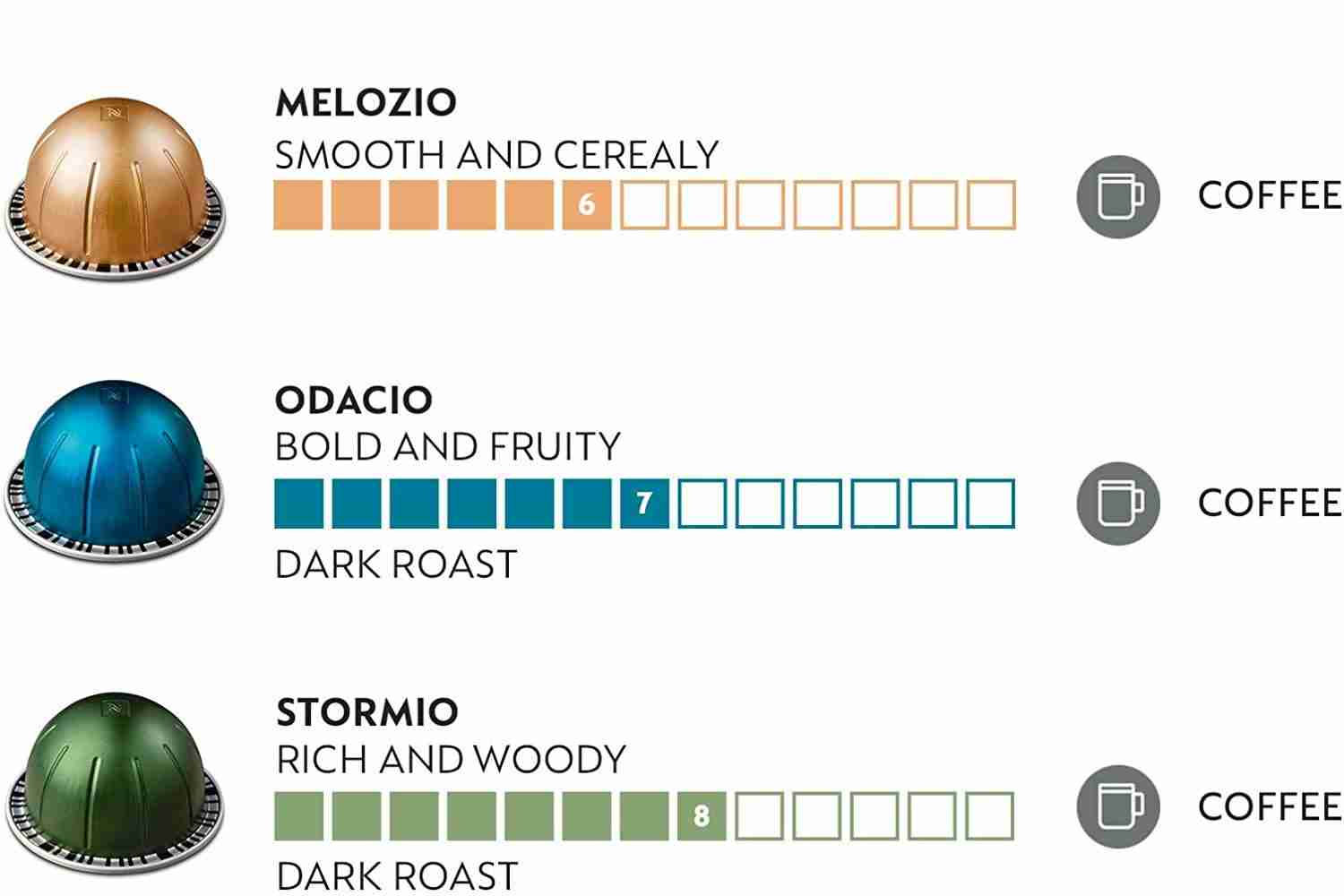 Since the release of the Nespresso Vertuo, it has completely changed the way I look at espresso coffee machines. Considering the price of the Nespresso Vertuo, you're able to brew excellent espresso drinks. Because of this, they've almost made expensive coffee machines obsolete from the market.
Within their mind-boggling device, they created their innovative barcode system on Nescafe capsules. At Nespresso, they want their users to experience remarkable coffee. They believed that the best way to achieve this was by only allowing users to use Nescafe capsules. Without a doubt, it makes sense. From delivering a machine that can be used with any third-party pod, you don't receive the full experience from owning a Nespresso machine.
Included the above, they've acted on global issues, like recycling. Because of these reasons, I had to put Nespresso as the winner of the innovation category.
As you can see from the above, there are various things you need to consider before finalizing your decision on whether or not you'll opt-in for a Keurig or Nespresso machine. After reading this Keurig vs Nespresso comparison, I hope you've gained some valuable knowledge on the subject and are now comfortable making the initial purchase.
However, note that I recommend visiting a try-out merchant before making a purchase. With this, they'll be able to provide you with coffee samples from the machines and coffee pods. Doing this, it'll make your purchasing decision a lot easier.
To better visualize the winners of the mention categories above, see below.
Keurig Vs Nespresso: the verdict
As you can see from the above, the Nespresso coffee machine can provide much more significant benefits when compared to the Keurig. The only significant difference between the two is that the Keurig is much more affordable to purchase and run than the Nespresso.
However, if you're able to bypass the expensiveness, you'll quickly find yourself a well-rounded coffee machine that'll provide you with superb brews each time, for a prolonged period.
So, now you understand the difference between the Keurig and Nespresso coffee machines, which one will you be purchasing?