If you're around New York City in October and like coffee, the New York City Coffee Festival is definitely something you should look check it. This is not your typical coffee trade show. This festival attracts all the top talent, companies, and coffee enthusiasts. They promote the coffee industry while also raising money for clean water and sanitation projects in the coffee belt region. This is where all the coffee is grown and produced for the coffee industry.
At the event, you will be exposed to the best companies in the coffee industry. Some activities available are:
Endless Coffee Samples
Products Demonstrations
Cooking Shows
Interactive Workshops
Live Music
Intoxicating Coffee Cocktails
World Class Barista Challenges
Street Food
Latte Art
When genius meets passion you get greatness. An example of this is Flair. For instance, during our time talking to the team we could feel the passion behind their product. The Flair Espresso maker is definitely a product of love. I had the pleasure of meeting Andrew and the others behind Flair at the Coffee Festival. During this meeting, I got to learn all about them and the brewing process.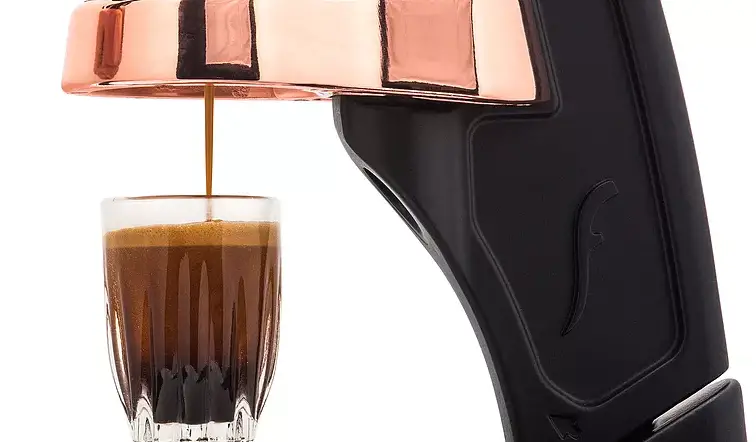 Using the Flair itself is an experience. It can be a process you can enjoy. Some may say the process is tedious, but those people don't experience espresso as an art form. The shots we pulled and tested are comparable to any other high-quality espresso makers. All the shots we sampled were full of flavor and had a delicate crema every time. We even tried a cold-press espresso which was great, and with more dialing in could be a great addition for a cold latte or affogado.
All this in an easy to pack pouch that you can bring on your next vacation! Gone are the questionable cafes with subpar espresso drinks. Now you can make your own espresso on the go. The Flair breaks down into four main parts. You can easily transport the parts in the carrying case.
About Flair Espresso
We will have a full review of the Flair Espresso maker shortly going through all the intricacies of the machine including prep, brewing guide, how to take care of your flair, and anything else you can think of. When you see this coffee maker you can tell the love and care that went into designing it. There are small details that, when noticed, really impresses the user.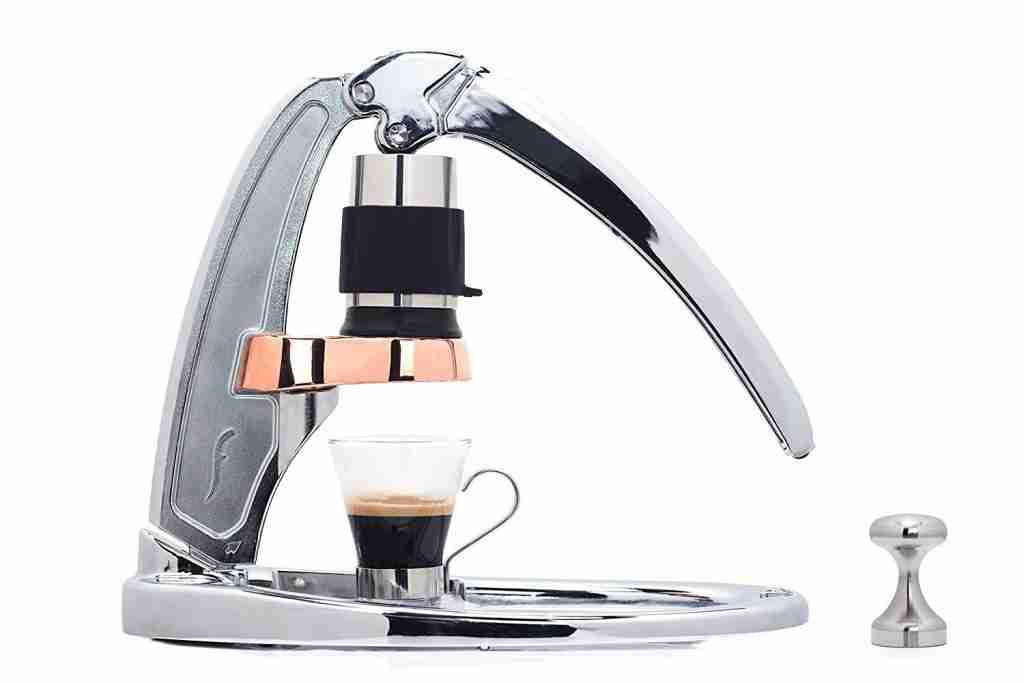 At the convention, we had the pleasure of meeting Andrew and he explained all his personal tips and trick for using the Flair Espresso maker. In addition, in our next article reviewing the machine, we will go over all the things you can do with this amazing creation. If you are interested in learning more about Flair we suggest meeting us there.
In conclusion, we highly recommend the Flair espresso maker for any coffee enthusiast that wants to have more control over their espresso shots!
Camp variety was set up by Variety Coffee Roasters. They started in Brooklyn in 2008. This company ethically sources the world's rarest and most unique green coffees to serve to their customers. Throughout their supply chain, they work with the producers to provide us with the perfectly roasted cup of coffee.
Variety coffee roasters set up a very unique booth at the New York City Coffee Festival. It did spectacularly well. Once you entered the convention you could see the line that led to Variety.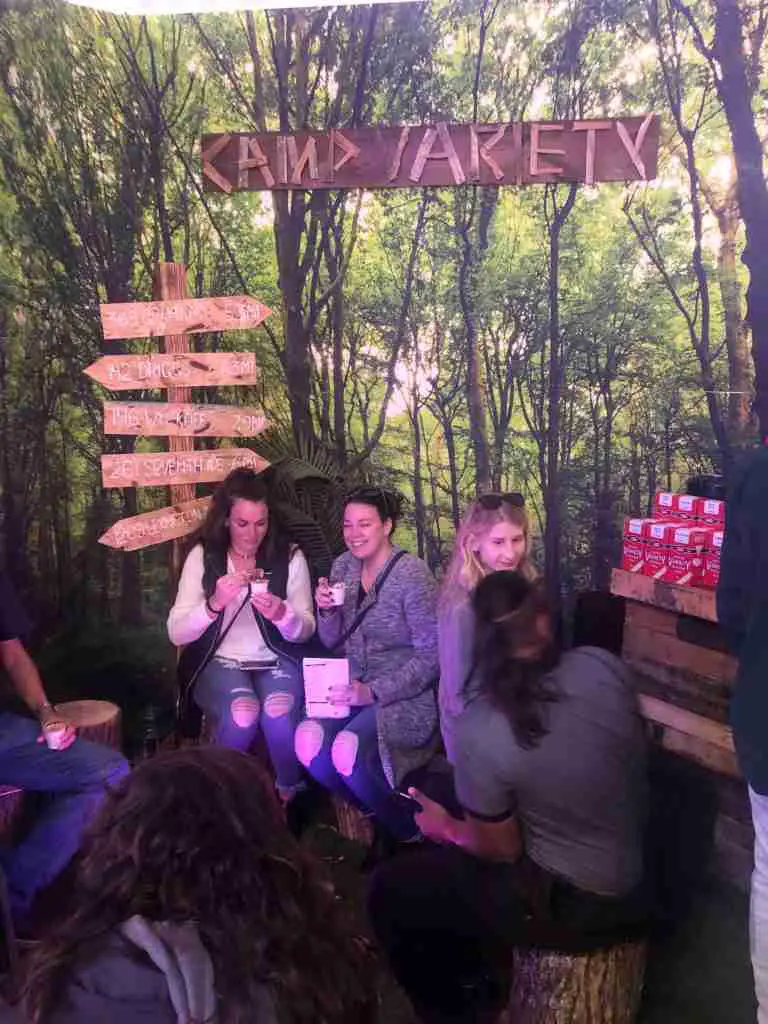 They set up a quaint "camp". There was energy buzzing there and everyone was curious about what they were serving at the booth. Firstly, they were shooting T-Shirts out and giving away coffee merch. It really was the perfect combination of anarchy and marketing.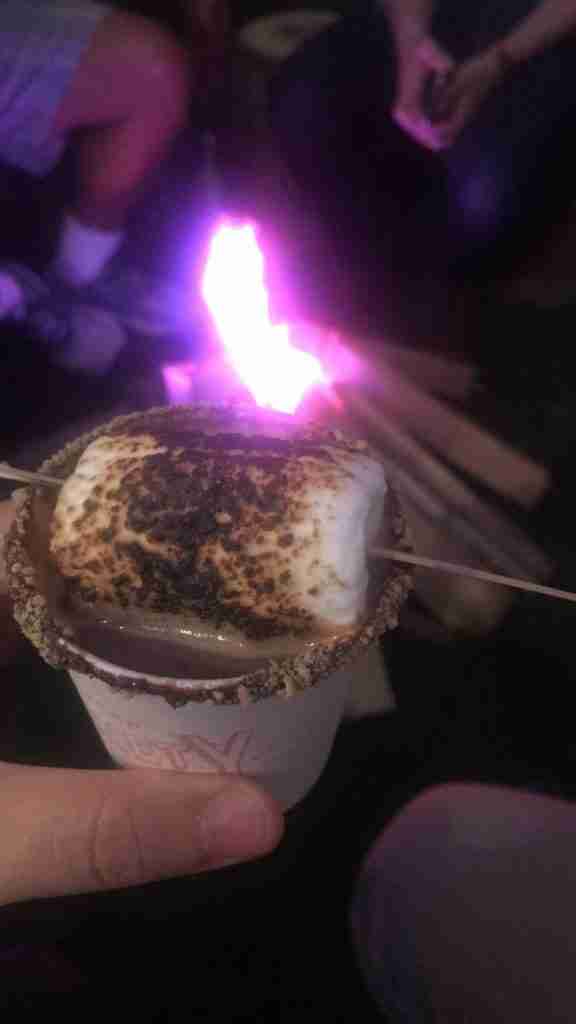 Secondly, the coffee they served was wonderful and seriously unique. We were served a small espresso cup rimmed with chocolate syrup and crushed graham crackers. Inside the coffee is foamed milk infused with mouth-watering graham cracker flavor. Best of all, it was served with a toasted marshmallow that they torched right in front of you! No wonder they were the most popular booth… They were so good I went back for seconds!
Are you a drinker? You have to try drinking this instead of beer. Bomani cold brew is a perfect substitution for a beer with even fewer calories. It is a naturally low calorie, gluten-free alcohol. There are only 110 calories, zero carbs, and 0 sugars in each can. Another great thing is there is as much caffeine as half a cup of coffee.
This booth seemed severely underrepresented. It is one of our favorite drinks at the festival. We happened to stumble upon this booth while waiting for another line and loved it!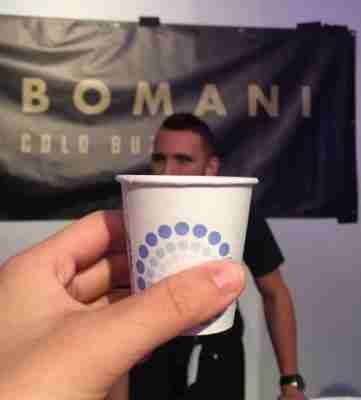 We love the idea behind this company. By challenging the status quo it brings about change and inspires more companies to make an alcoholic cold brew coffee. For instance, I get tired after a few glasses of wine and sneaking in a can of Bomani cold buzz could solve all my problems.
All in all, Bomani is a great company and we expect great things from them in the future.
Conclusion, Wrapping up New York City Coffee Festival 2019
If you are on the fence about going to the New York City Coffee Festival you should definitely check it out. By going you will be doing a great thing! All the proceeds are donated to Project Waterwall to deliver water to the coffee growing regions. Therefore, by attending the event you are helping coffee growers around the world!
If you are interested in learning more about coffee check out our latest articles!