You need your cup of coffee every morning to fight off the morning grogginess. However, you are faced with an overabundance of choices when it comes to coffee makers. We will help you choose the best coffee maker for college students.
Back when I was preparing to go to college, away from home I did my research so I could buy the best coffee maker for college students. There are many things that I considered when I made my decision. What I wanted was:
Easy to use
Easy to clean
Quick to brew
Small footprint because of limited space
Affordable
Here are the top picks the team at Coffee Informer chose.
Quick View
1. CHULUX Coffee Maker Single-Serve Coffee Machine.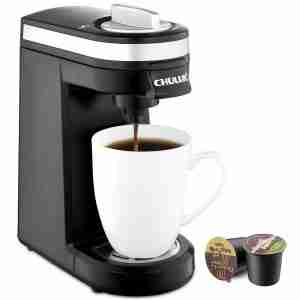 The Chulux is a stylish modern single serve k-cup machine. Perfect for someone who is constantly on the go. It comes in a variety of colors and would fit seamlessly into a dorm room.
This coffee maker is comparable to many different types of pods. It will work with both one and two-ounce pods, and almost all pod brands.
It has a 12-ounce water reservoir and a simple one-touch operation. All you have to do is press a button. Everything is removable for easy cleaning. Best of all everything is BPA free so it is completely safe for hot liquids.
Because of its tiny footprint, quick brew time, and flexibility the Chulux is the list for the best coffee maker for college students.
Click here to check pricing and to read more reviews
Pros
Quick Brew Time
Small Footprint
Flexible with Pods
BPA Free
Cool Color Options
Easy to Clean
Cons
Small Reservoir can only serve one cup at a time
Only Takes K-Cups
2. Hamilton Beach Single Serve Coffee Maker (Model 49981A).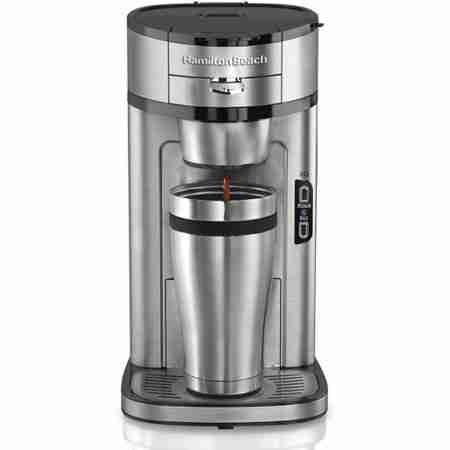 This is the perfect coffee maker for a college student that wants a traditional drip coffee.
This sleek chrome design still looks cool and modern while making the traditional drop coffee you are used to.
The reservoir can hold enough water to fill a full-sized mug and comes with a scoop filler for coffee grounds. This way you can use your own ground coffee. It still brews an 8-ounce cup in less than 90 seconds and brews a 14-ounce cup in under 2.5 minutes.
There are also two options to brew coffee. Regular and bold which gives you extra flexibility to how you enjoy your coffee.
This coffee maker was awarded the Good Housekeeping Very Innovated Products (VIP) Award by Good Housekeeping Research Institute. It also received very high rankings for its ability to use coffee grounds instead of pods.
Click here to check pricing and to read more reviews
Pros
Very Fast Brew Time
Cool Chrome Finish
Can Use Ground Coffee
Can Make Bold Coffee
Easy to Clean
3. De'Longhi Original Espresso Maker.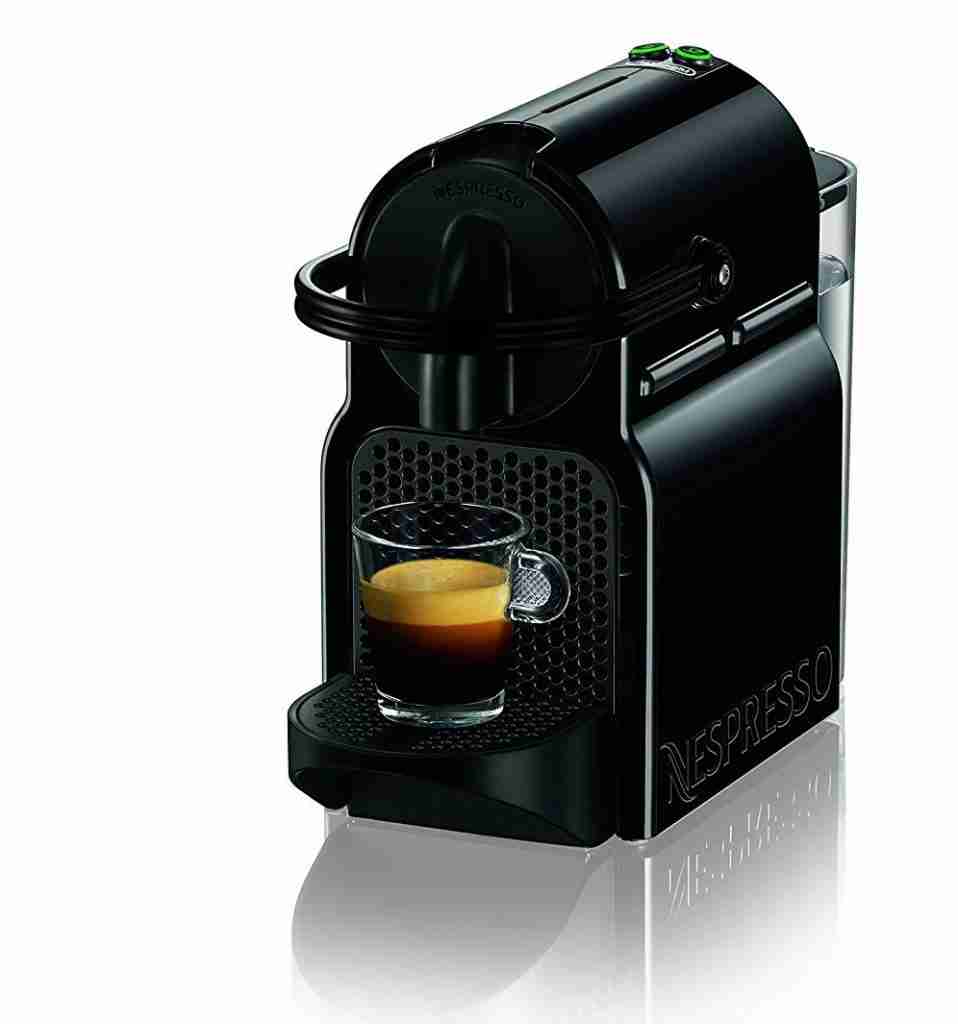 For those who prefer a cup of espresso in the morning to get you going there is the De'longhi original espresso maker. This is the best coffee for college students that want to have espresso in the morning daily.
This model is smaller than a Keurig and there is an easy carrying handle. Bring the Delonghi espresso maker to your next study session.
It uses a specialized coffee capsule similar to a Keurig. You just pop in the cartridge and press brew and you're ready to go. It only takes 25 seconds to heat up and with a push of a button, your espresso is ready and waiting.
Click here to check pricing and to read more reviews
Pros
Fast 25 Second Preheating Time
Automatic Power Off
Removable 24 Ounce Water Tank
Makes Espresso
Easily Movable
Cons
Uses Specialized Espresso Cups
Short Power Cord
Cannot Support Large Groups
4. Cuisinart 14-Cup Glass Carafe Programmable Coffee Maker (DCC-3200).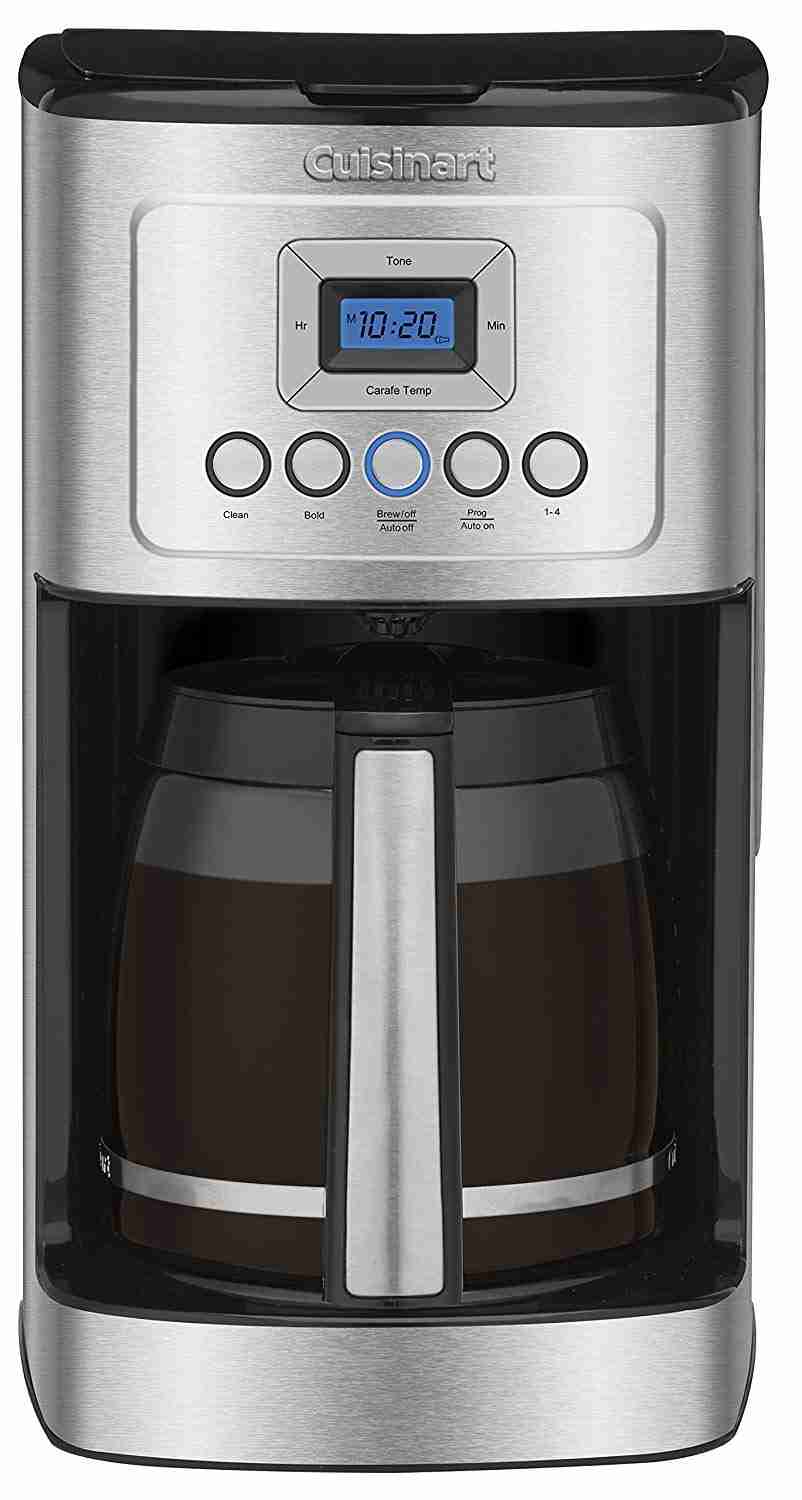 We recommend this coffee maker for someone who wants to have all their needs met. You will have to give up a bit more cash for this machine, but it comes with all the features you will ever need. This coffee maker can be programmed, timed, turned on and off by itself, and much more. While this isn't the most expensive machine on the market, it is a great balance between price, performance, features, and taste.
For someone looking to have a great coffee pot to share for suitemates, this is the best coffee maker for college students. In the morning you can make use of the fully-automatic mode and hit one switch for great tasting coffee for you and your friends.
In terms of taste, this coffee maker will be able to brew coffee at temperatures higher than most other coffee makers. This would be a great choice for college and even for the future in your early 20s after you graduate school.
Click here to check pricing and to read more reviews
Pros
Programmable
Many Functions
Brews 14 Cups
Reusable Washable Filter
High Brew Temperature
Cons
Luxury Pricing
Larger Footprint
Uninspired Design
5. Mr. Coffee Café Barista Premium Cappuccino System.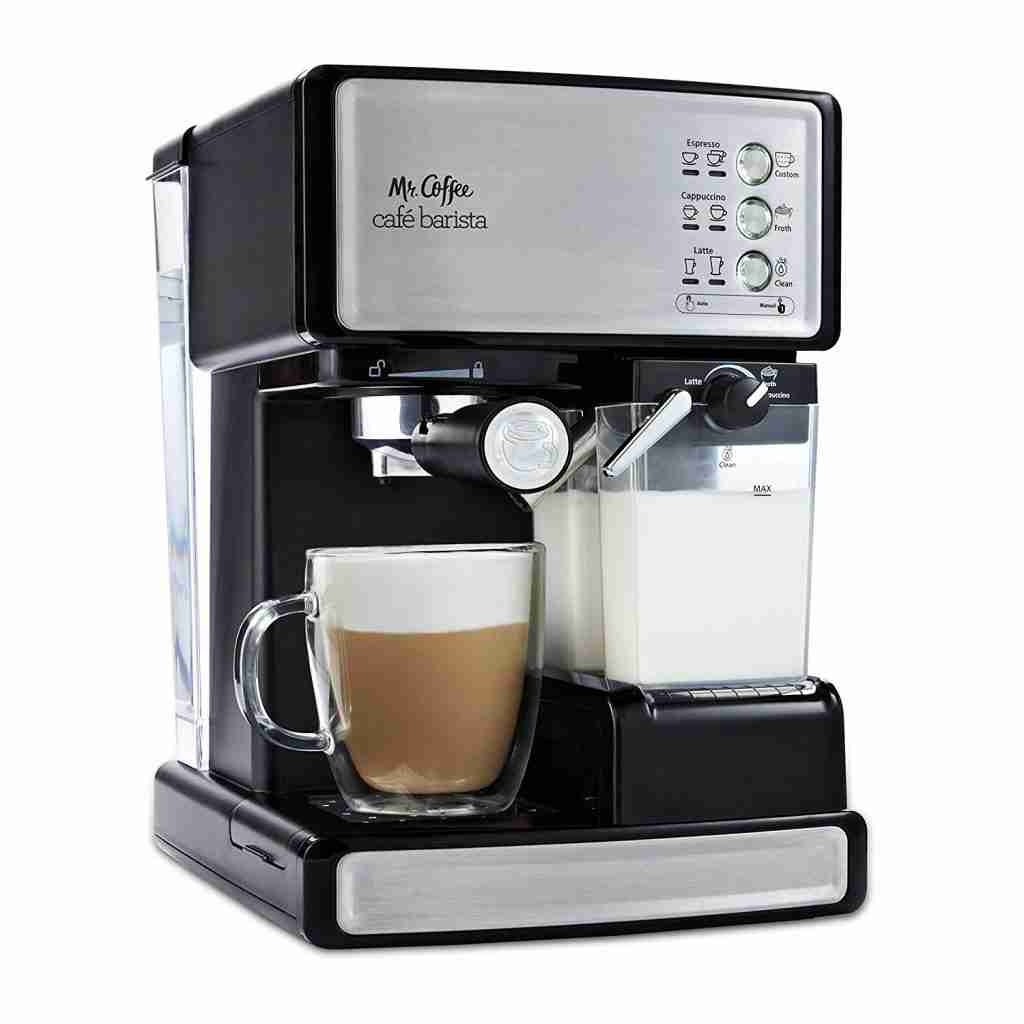 Your room will definitely be the one all your friends hand out in if you have this coffee maker. This is overall the hippest and best coffee maker for college students that want to drink lattes and other espresso drinks that require foamed milk. It is like having your very own barista in your dorm room. It can make espressos, lattes, cappuccinos, and even macchiatos. All at a push of a button.
It has a built-in milk frother that automatically does all the work for you. This can be useful for stuff outside of coffee as well.
Without being overly complicated, this coffee maker lets you pull the perfect shot of espresso. All you have to do is full up the water tank, add your coffee to the portafilter, tamp your coffee, and pour in the milk.
This high tech machine allows you to make many gourmet espresso-based drinks at a fraction of the cost. With outside coffee shops charging upwards of $5 per cup this coffee maker will pay for itself in no time. The best coffee maker for someone who wants to save money on expensive espresso drinks.
With this machine, you can also learn how to start doing beginner latte are. If you would like to learn more about how to do latte are watch this video we posted recently.
Click here to check pricing and to read more reviews
Pros
Makes Espresso Drinks
Built-In Milk Frother
Easy To Use
Can Make Latte Are
Cons
Cannot Make Regular Coffee
More Expensive Comparatively
Uninspired Design
6. Espro Travel Coffee Press.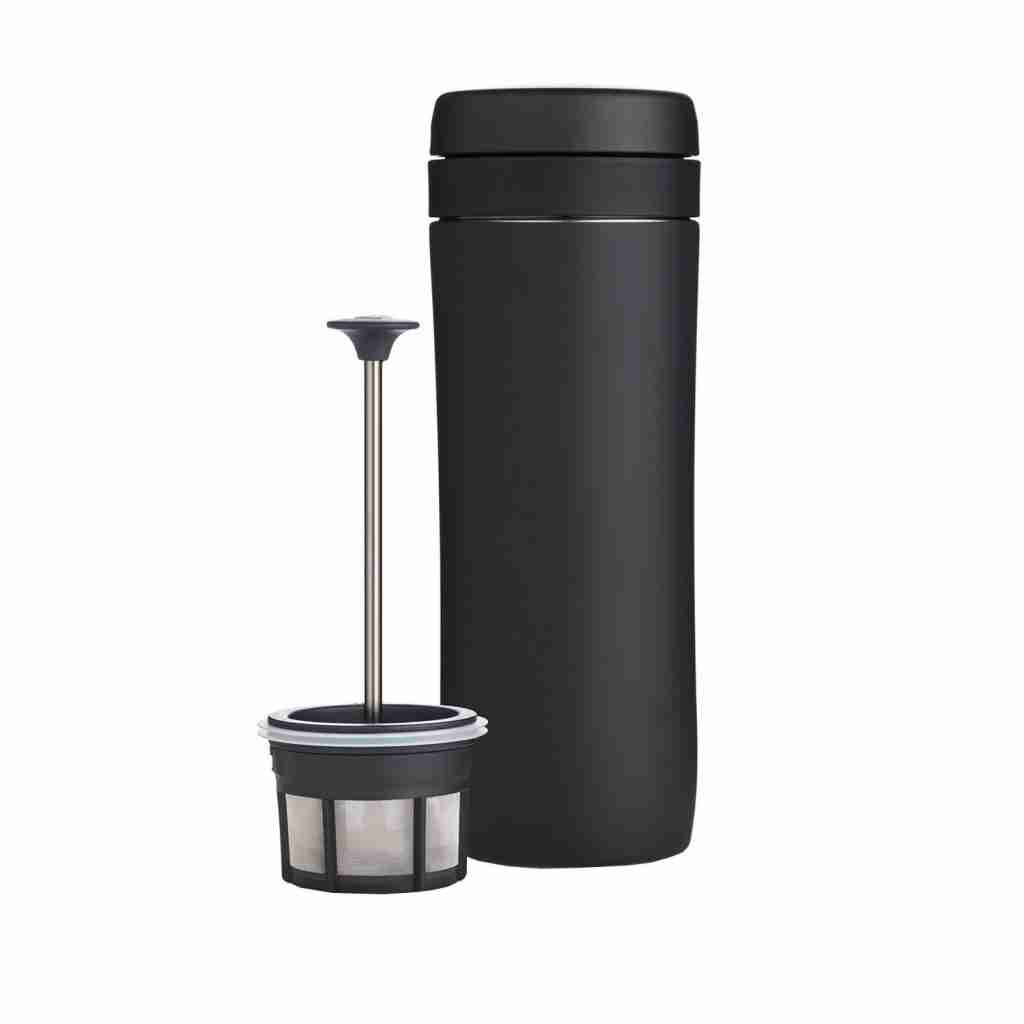 The Espro Travel Coffee Press is the best coffee maker for college students that are always on the go. This is the most portable high-quality coffee maker available. It creates coffee in the signature french press style.
It is both a travel mug and a coffee maker. However, you would need access to hot water which is usually accessible in the cafeteria areas.
The travel coffee press has a built-in press that is easily removable. It is used to tamp down the coffee grounds after steeping.
Click here to check pricing and to read more reviews
Pros
Portable
Easy to Clean
Can Use Ground Coffee
Cons
Needs Access to Hot Water
Not Practical Past College
Conclusion
These are all great coffee makers if you need a quick cup in the morning. If you drink a lot of coffee you should read our article about how much coffee is too much.