Have you ever wanted to drink a cup of espresso, but didn't have an espresso maker at home? We will show you have to make the best espresso on the stove at home. This the best stovetop coffee maker how to guide!
We've always wondered how we could get a good cup of espresso at home without spending a fortune on an espresso maker. Our research has found with the right techniques we can make an espresso right at home using a type of stovetop coffee maker called a Moka pot.
What is a Moka Pot?
Moka pots are an Italian made metal stovetop coffee maker that has recently made a resurgence. It is possible to use them to make a dense espresso with no need for electricity or expensive equipment.
This is a classic way of brewing coffee and it is very simple and easy to operate. They use the basic principles of making good espresso, pressure, and heat. There are four pieces to every espresso maker the base, the chamber, the inner funnel, and the filter. They work together to make a strong shot of coffee. Later, we will explain how the Moka pot works.
Moka Pot vs Espresso Machine
The coffee created from a Moka pot is not a true espresso. However, the coffee is 2-3 times stronger than normal coffee. It is a nice hybrid of flavor and strength.
There have been debates been fans for what will create the best espresso. Some think Moka pots make the best espresso on the stove, and others think the only way to make a true espresso is with an expensive machine.
There is no easy to answer this question. Both of these devices brew a strong cup of coffee. However, Moka pots lack control, consistency, and pressure compared to espresso machines. The main reason for this is the group head valve found in espresso machines. It allows for a steady flow of pressurized water over all the grounds. This helps for even extraction of flavor. The Moka pot has no way to control the pressure so it can be inconsistent. Some times it may be bitter and other times it may be watery.
A major difference between the two is the cost. Espresso machines are extremely expensive and require much more knowledge and equipment to operate. Here is our choice for the best espresso machines available.
Moka pots are good for the at-home coffee connoisseur that wants something quick and easy for the mornings. They are good for brewing strong coffee on the go without a huge investment of money.
How Does a Moka Pot Work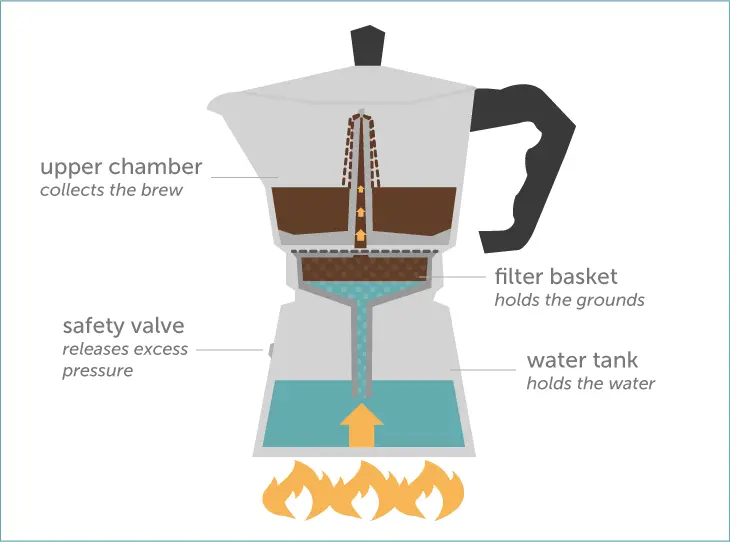 To start, the pot is put on the stove the water starts to boil. Next, the steam is trapped and starts building pressure. The pressure in a stovetop coffee maker usually gets to around 1.5 bar of pressure. The pressure increases to a point when the water is forced through the coffee filter and through the coffee grounds creating a cup of coffee.
Stovetop Coffee Maker How To Guide
We will be using an Original 3 Cup Bialetti Moka Express for this example. A classic.
Step 1
First, you have to finely grind 20-22 grams of coffee. If you use a commercial grinder it should have an espresso setting. If you hand grind your coffee set your coffee grinder to grind as finely as possible.
Then fill your filter basket with the ground coffee. Make sure the grounds are evenly spread. The grounds should form a flat surface.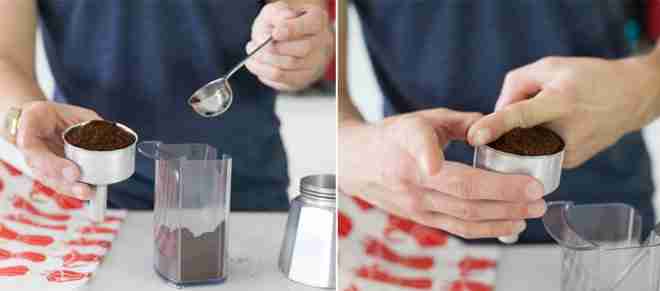 Step 2
Boil water to around 200 degrees Fahrenheit. This is just before bubbles start forming in the water. You can heat the water to a roaring boil then let it cool off for a minute.
Then you will fill the bottom half of your Moka pot with the boiling water. Make sure to fill it just to the bottom of the pressure relief valve.
Step 3
Put your filled filter basket into the bottom part of your Moka pot with the boiling water. It should fit snugly.
Step 4
Screw the top of your Moka pot on tightly. If you do not screw it on tight enough the pressure will escape and you will be left with a subpar coffee.
The bottom of the coffee pot will be hot so be careful! Use a towel to hold the bottom while you tighten.
Step 5
Put your Moka pot on the stovetop. Turn the fire onto medium heat. The reason you do not want to turn it too high is the heat can actually burn the coffee and leave it with an extremely bitter taste. Play around with your settings because every stove may be different.
Step 6
When the water comes to a boil again it will pressurize the bottom chamber and push coffee through the spout into the upper chamber.
If the coffee starts spraying everywhere and coming out like a faucet your fire is too hot. When that happens you should turn down the fire.
On the other hand, if the coffee is coming out lethargically or nothing comes up at all you should turn up the fire.
The coffee is done when you hear a hissing, bubbling sound and there is no more coffee streaming out.
Step 7
Enjoy your stovetop coffee from a Moka pot!
How to Clean Your Moka Pot Coffee Maker
After you brew your cup of coffee it is important to clean your Moka Pot before you brew again. It an old Italian myth that you shouldn't clean your Moka pot. The myth stated it would give you more coffee flavor the next time. However, this is false. You have to clean your pot every time or you will contaminate your next brew with the previous stale coffee flavor.
Part of the myth is true, however. One thing you have to know when washing your Moka pot is to use warm or hot water without soap. This is because coffee beans release a lot of oil. You just want to get rid of the leftover coffee grounds. We want to preserve whatever oils are leftover to enhance your next cup of coffee.
The inside of the funnel of your Moka pot is the most difficult part to clean. What we like to use is a pipe cleaner to wipe the inside of it. This helps to get rid of the old coffee build it. We have also read that a straw can do the trick. You don't need to clean this part after every brew but do it enough to keep your Moka pot making clean consistent brew.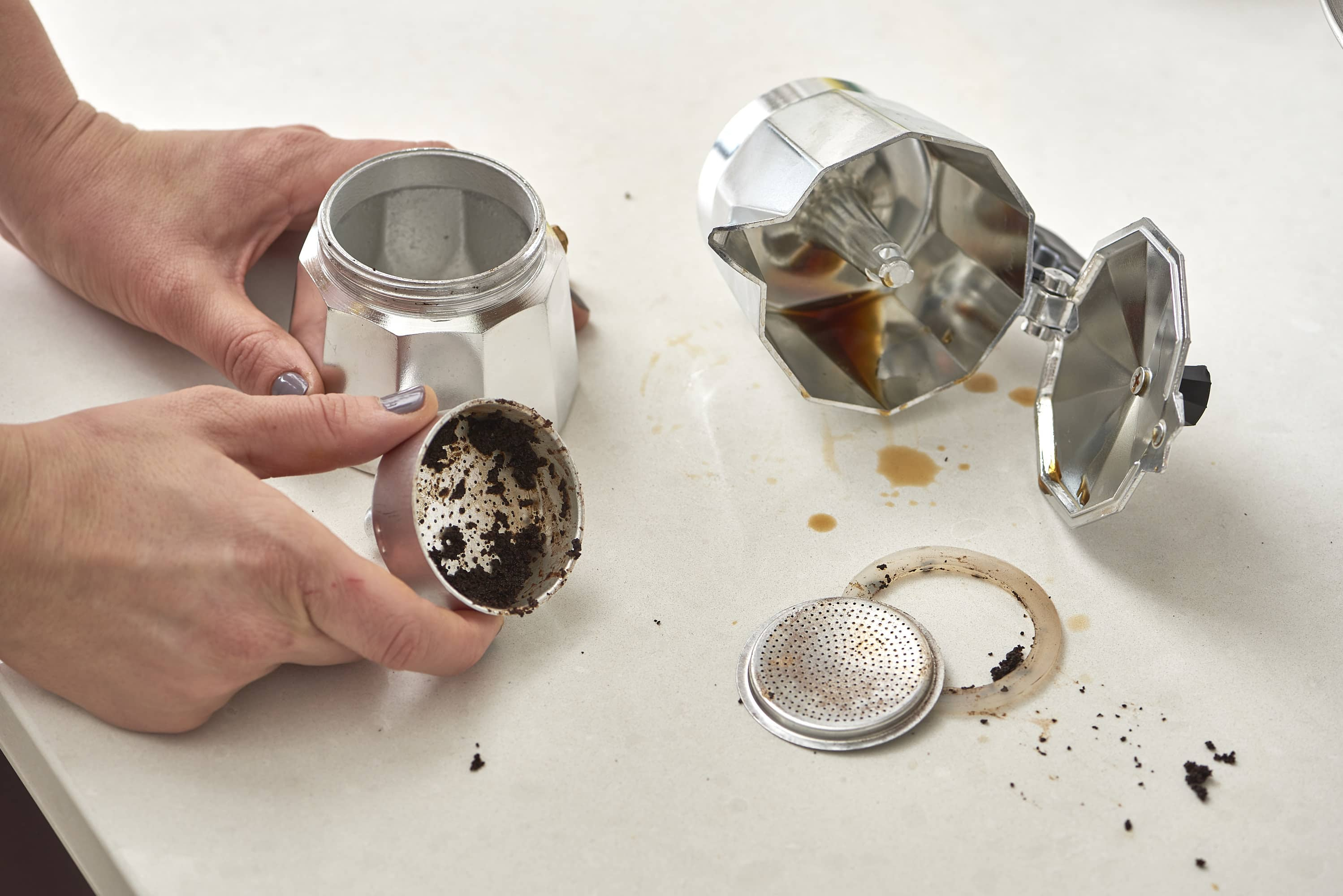 What are the 10 Best Moka Pots?
So what are the best Moka pots? What makes the best Moka pot? We were curious too so we have tried many pots. This is the result of our hard work and these are our top choices for anyone who wants to try making this type of coffee. Now that you know how to use a stovetop coffee maker to make a great cup of espresso. All you need is a good coffee pot.
Grading Criteria
We considered the following points when choosing the best stovetop espresso maker.
Where it is made. Originally all the highest quality stovetop coffee makers were created in Italy. Nowadays they can be created anywhere, but the main brands stay in Italy.
Brewing capacity. This is just a comparison for reference. Some people may only need a stovetop maker that can make 1 or 2 cups and others may need 10 cup makers. We will choose the best Moka pot for each size.
Material. Traditionally Moka pots were all made from aluminum. It was great at conducting heat and perfect for transferring that heat to the coffee. Nowadays manufacturers make stovetop coffee makers out of stainless steel. This is because it is easier to maintain and stainless steel does not corrode like aluminum.
Online Reviews. We took the best coffee makers we could find on Amazon and reviewed them. Everything we reviewed here today has over 4 stars on Amazon.
Bialetti Moka Express Stovetop Espresso Maker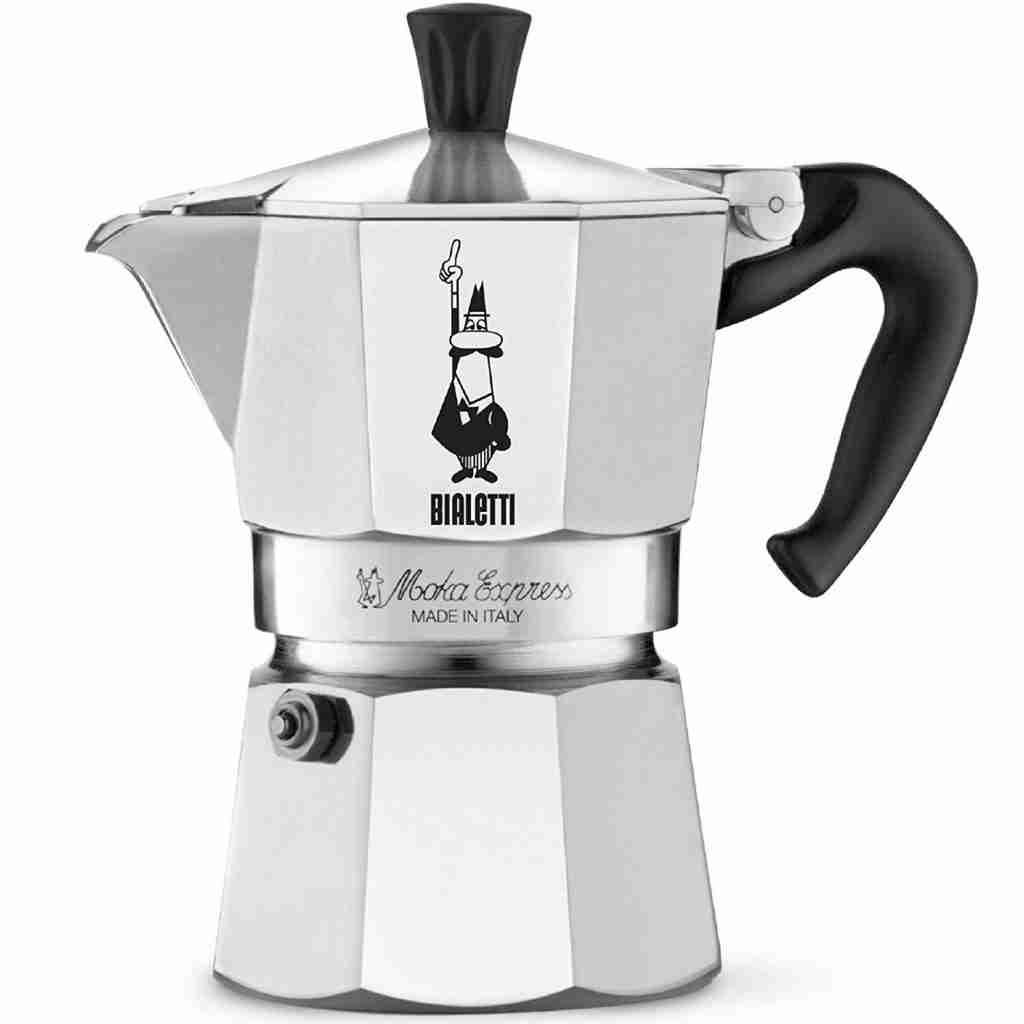 Bialetti is the top company when it comes to stovetop espresso makers. You will see this company come up again with other coffee makers on this list. This coffee maker is expertly designed by an expert Italian company.
The octagonal shape of this coffee maker allows heat to be evenly distributed so it does not burn your coffee. It is made out of aluminum so it allows for easy distribution in heat further preventing burned coffee. This coffee maker comes in a 1, 3, 6, and 9 cup option.
Click here to check pricing and to read more reviews
Pros
Makes high-quality espresso
Quick and easy to use
Easy to clean
Different size options
Beautiful Italian design
Cons
Not dishwasher friendly
Not optimized for electric stovetop
Bialetti Elegance Venus Induction 6 Cup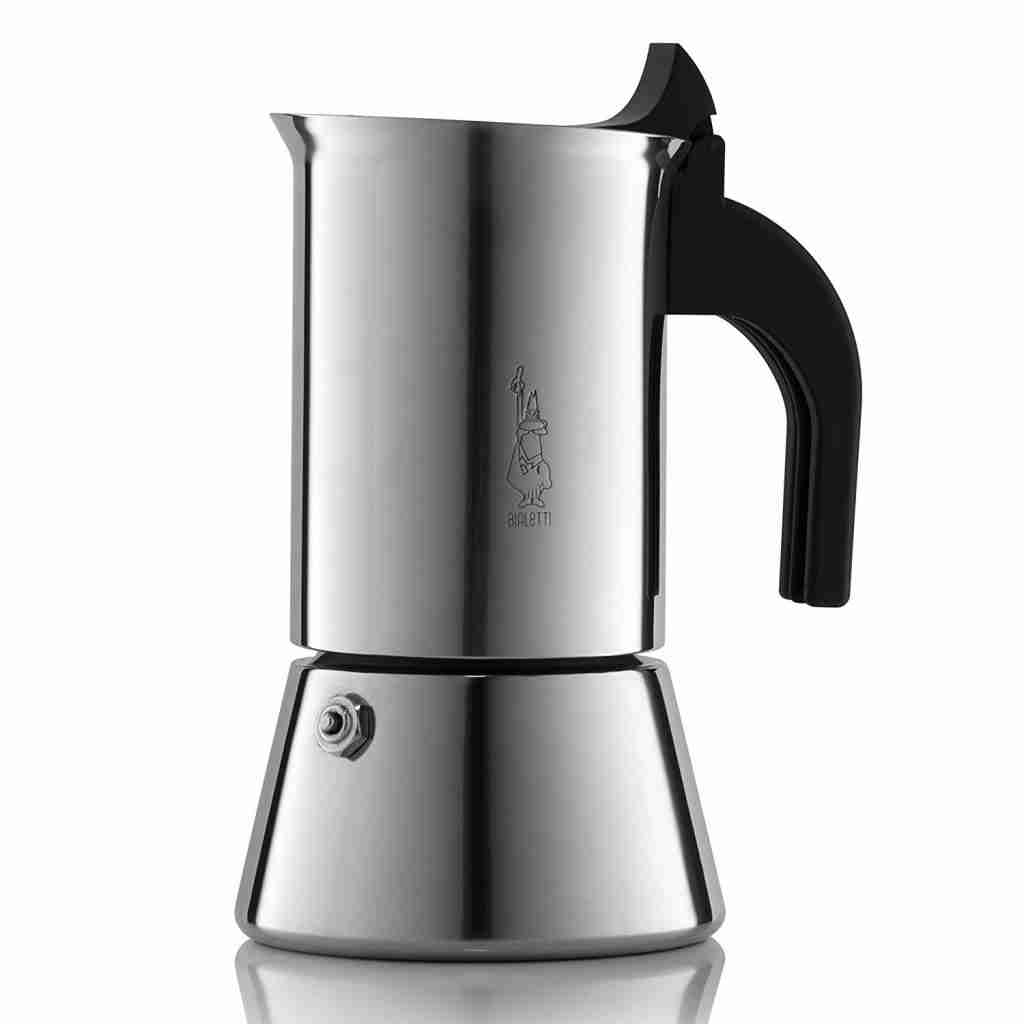 This is another beautiful coffee maker by Bialetti. As the name suggests it has an elegant look. It is a beauty to the eye as well as to the mouth. This is because it creates an amazing tasting coffee.
The elegance is created from stainless steel so it works on any kind of stovetop traditional and induction. What's different about this coffee maker is the handle. It's strategically placed so it will not get hot after brewing the coffee. Also, it is made of insulating materials.
Click here to check pricing and to read more reviews
Pros
Makes high-quality espresso
Quick and easy to use
Easy to clean
Heat resistant handle
Beautiful Italian design
Cons
Not dishwasher friendly
Cuisinox Roma Coffeemaker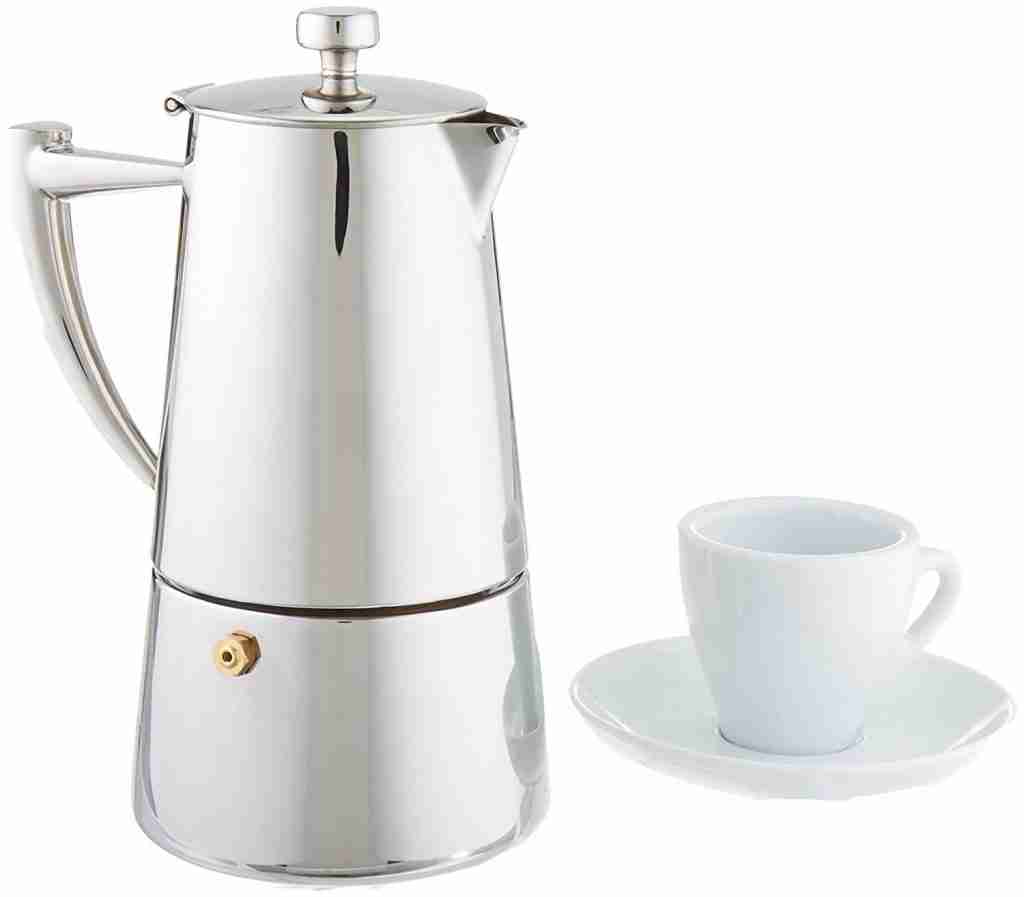 This is a large stovetop coffee maker. It can make up to 10 cups of espresso at one time. If you have guests over, this is the coffee maker you're taking out. The Roma as an elegant feel to it. However, it is made in China and for us kills the elegance it is going for.
That being said, this pot is an industry best. It is an innovative product that we cannot dispute. Some features this coffee maker has is its heavy-gauge 18/10 stainless construction and an induction base. This lets you put the coffee maker down on any surface after you brew on the stove.
Click here to check pricing and to read more reviews
Pros
Makes high-quality espresso
Comes with extra gasket
Beautiful coffee maker
Can place on all surfaces
Heavy-gauge stainless steel
Cons
Not dishwasher friendly
Made in China
Handle heads up after brewing
Expensive
Tops Rapid Brew Stovetop Coffee Percolator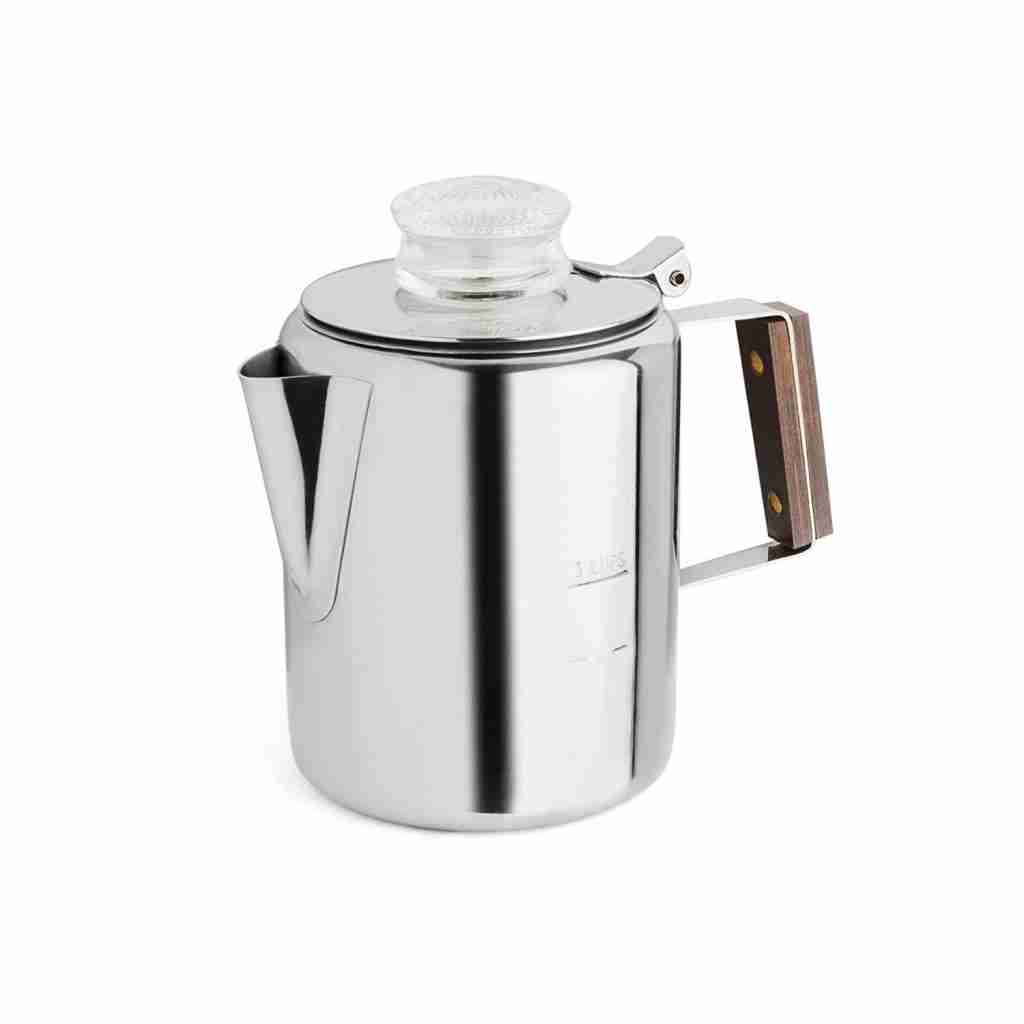 The Tops Rapid Brew can produce up to 9 cups of coffee. Its made out of stainless steel with a clean top to observe the brewing process. We enjoy this coffee maker because of the metal shine of the stainless steel and how its made of one piece of high-quality metal. The handle is perm wood grain and it makes it easy to "handle" while it's on the stove brewing.
Click here to check pricing and to read more reviews
Pros
Makes consistently good coffee
Beautiful wooden handles
Beautiful coffee maker
Can place on all surfaces
Heavy-gauge stainless steel
Cons
Not dishwasher friendly
Made in China
Handle heads up after brewing
Expensive
DeLonghi Alicia Electric Moka Espresso Coffee Maker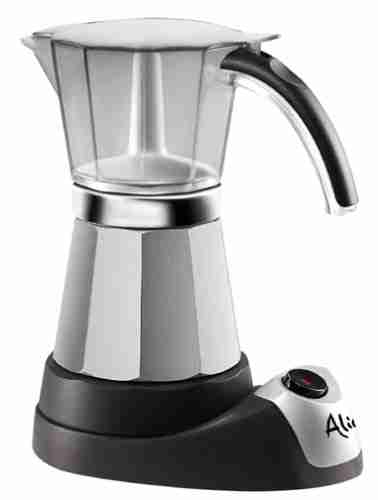 Don't want to bother with the stove, but still love your stovetop coffee? The DeLonghi Alicia comes with its very own "stove". You can bring this anywhere and have up to 6 espresso cups ready in minutes. There is an automatic shutoff programmed into the heating element and it can keep your coffee hot for up to 30 minutes.
This is a unique and cool coffee maker. We love the transparent window so you can see the coffee goodness bubbling out. You also don't have to worry about whether your coffee maker works with your stove and how hot your stove needs to be at.
This is a great solution for those who don't have access to a stove like a college student. If you want to read our top picks for coffee makers for college students we chose out favorite picks here.
Click here to check pricing and to read more reviews
Pros
Makes stovetop coffee without the need of a stove
Comes with an adaptor so you can make 3 cups or 6 cups
Easy to clean
Travel-friendly
Keeps coffee warm & automatic shutoff
Cons
Rubber seals may fail under pressure
Requires electricity
Coletti Bozeman Percolator Coffee Pot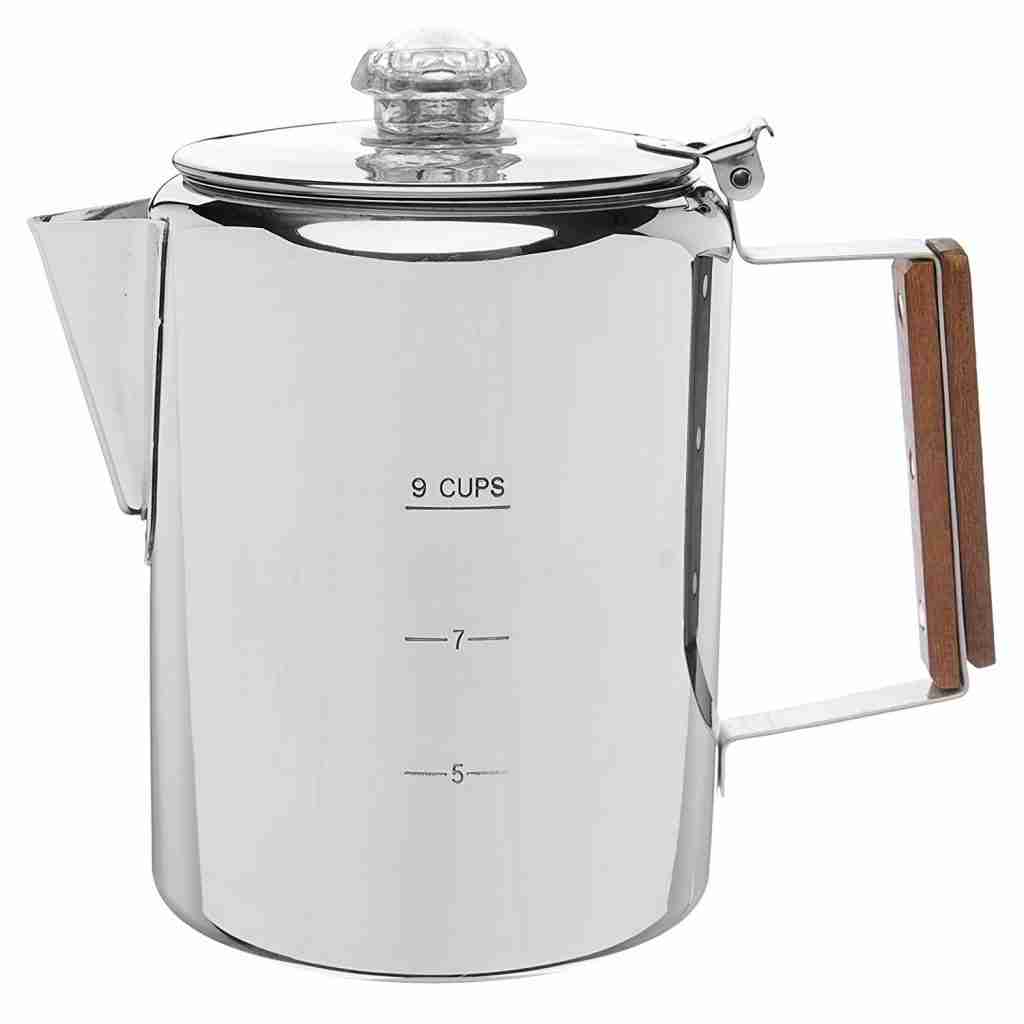 This is a hardy coffee maker that is suitable for any situation. It's nearly unbreakable because if its stainless steel construction. We think its a great solution for campers and outdoorsmen that need their stovetop coffees. Here is our pick for the best coffee maker for camping outdoors. There is a glass window on top so you can actively watch your coffee bubble out.
Unlike the other stovetop pots so far this is a percolator coffee pot. This means that the coffee bubbles up and then perks out. It doesn't filter out any of the coffee grounds and there may be some grounds present in your coffee. This also means you get all the oils of the coffee.
Click here to check pricing and to read more reviews
Pros
Indestructible construction
Brews strong coffee
Dishwasher safe
Cons
Coffee grounds present in coffee
May over-extract coffee easily
Bialetti Kitty Espresso Coffee Maker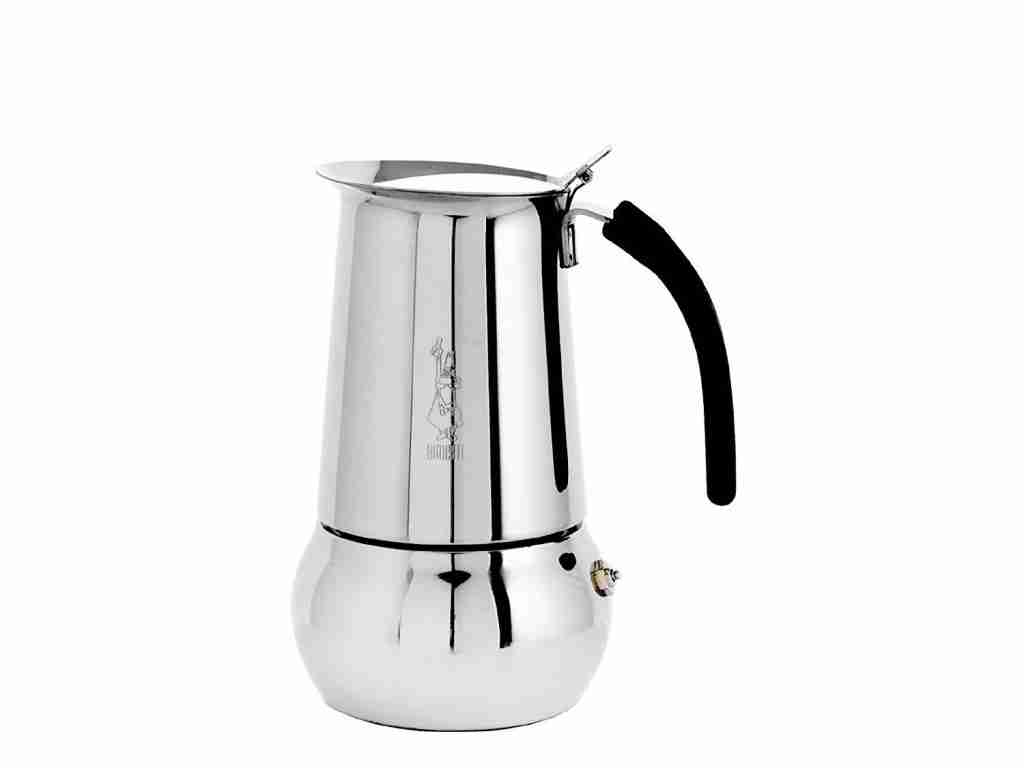 "Kitty" espresso maker brews a strong, full-bodied coffee. It uses stainless steel and fixes all the previous gripes about the Bialetti Moka Express. As a result, it is dishwasher safe and it works with all stoves. Taste-wise, it still tastes great.
Click here to check pricing and to read more reviews
Pros
Dishwasher safe
Works with all stoves
High-quality Italian design
Cons
The lid lets heat escape
Bialetti Brikka Stovetop Espresso Maker, 4 Cups (06835)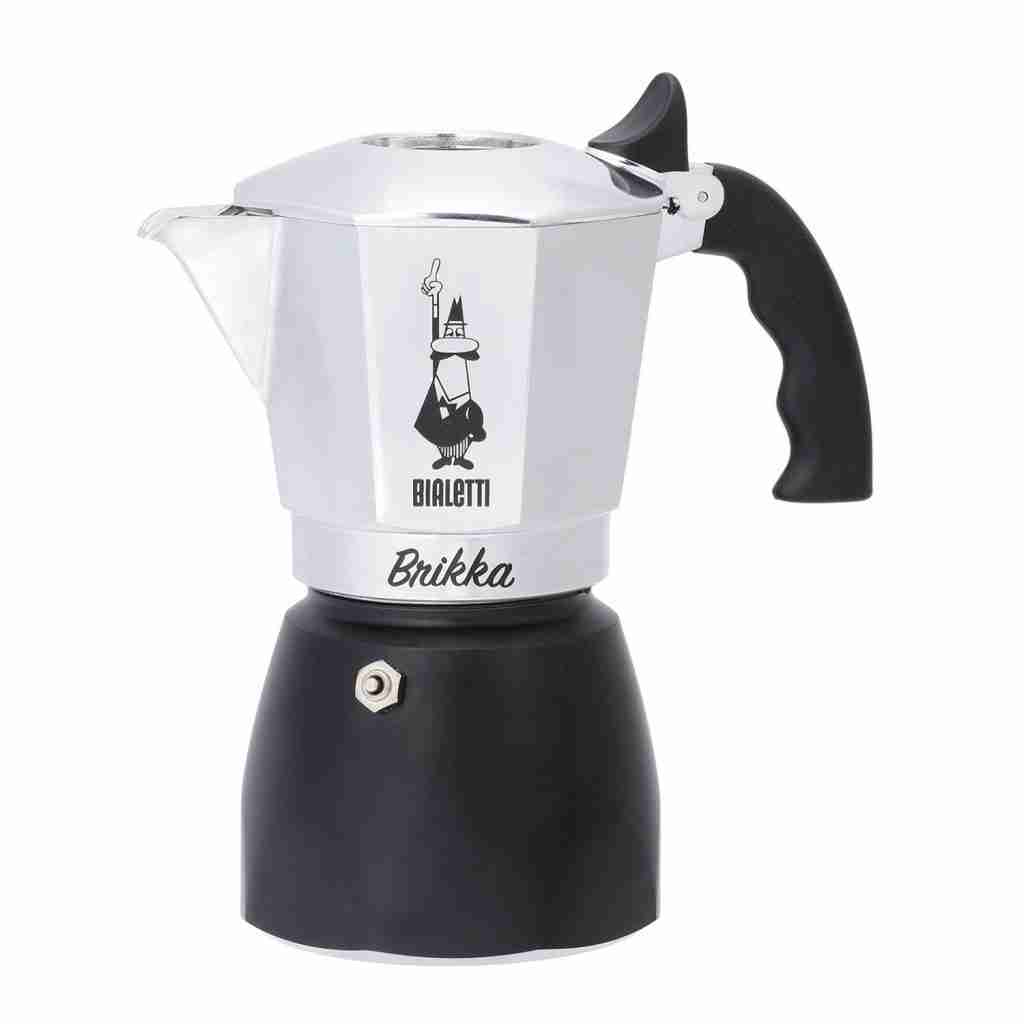 This Moka Pot by Bialetti has a cremator in the pot. This means there is a dual-chamber design that allows for higher pressures and faster brewing.
The one main thing is the coffee can be brewed with a crema for those looking for a higher pressure brew and a more authentic espresso. This allows for more extraction of the coffee beans and more flavor.
Click here to check pricing and to read more reviews
Pros
Higher pressure brew
Built-in cremator
High-quality Italian design
Cons
Inconsistent brewing
Hand wash only
Alessi Pulcina Italian Coffee Maker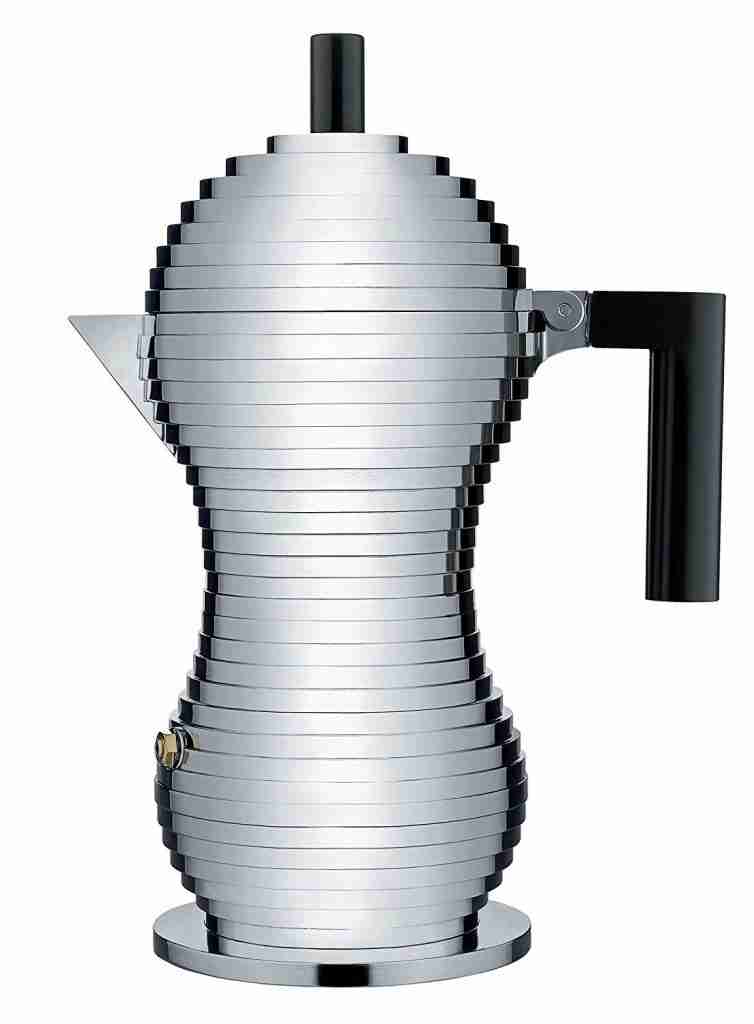 The Alessi Pulcina stovetop espresso maker takes the idea of the Bialetti Moka Express and brings it to the 21st century. It is designed by Michele De Lucchi and it has a modern style to it. It is made out of aluminum and it is beautifully designed.
Click here to check pricing and to read more reviews
Pros
Beautiful Design
High quality, built to last
High-quality Italian design
Alessi Espresso Maker, 6 Espresso Cups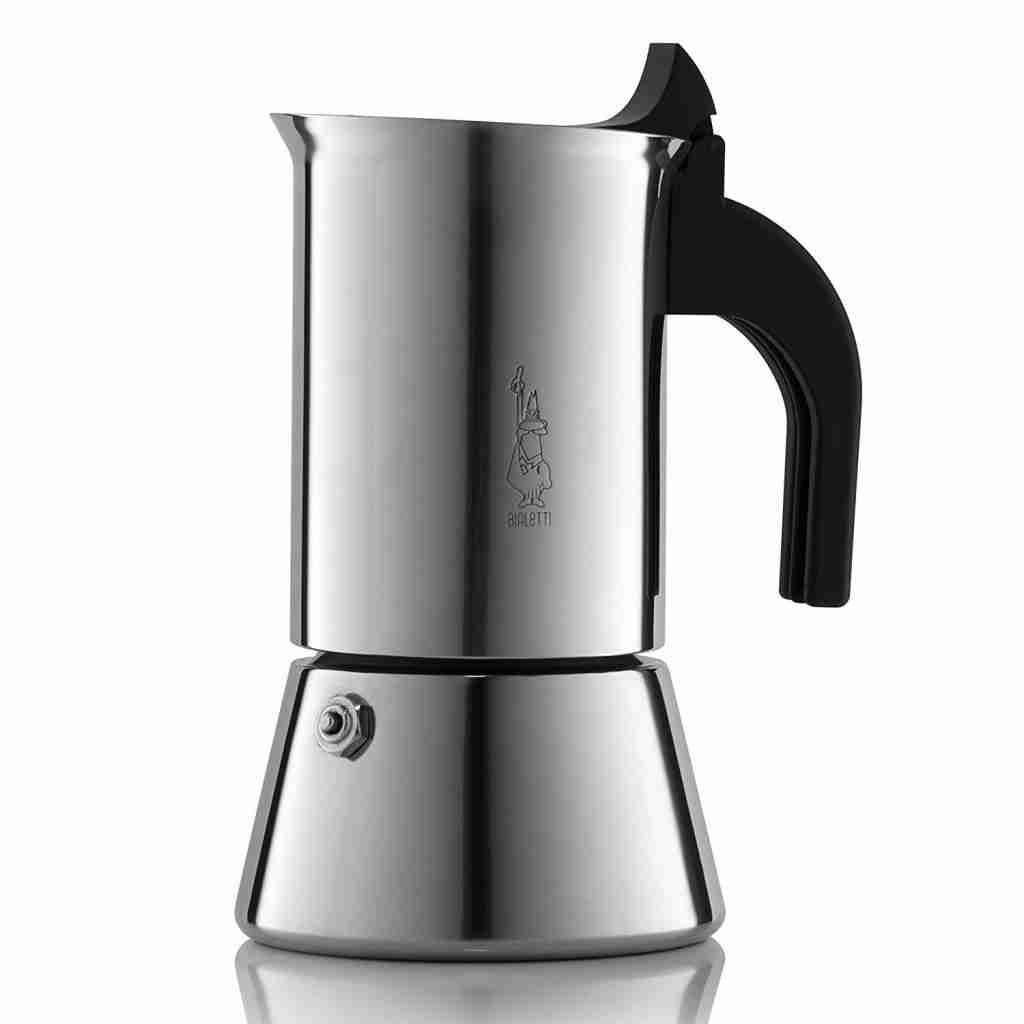 This Moka Pot has a different type of modern design. It is minimalistic and built from stainless steel. The design is so great that is has been featured in the Museum of Modern Art.
Compared to previous stovetop pots this one has a stronger seal by using a snapping locking mechanism instead of a twisting one. This creates a stronger seal resulting in a cleaner and richer cup of coffee.
Click here to check pricing and to read more reviews
Pros
Beautiful minimalistic design
Produces the best resemblance of espresso
Stainless steel construction
Cons
Handwash only
Expensive
FAQ
What kind of coffee bean should I use in a stovetop coffee pot?
Our suggestion is to use whatever coffee beans you normally like for espresso. Whatever you choose we recommend grinding the coffee right before you brew the coffee. When you grind it just make sure the grind size is correct. You should have it slightly finer than what you use for drip coffee but a little more coarse than espresso. Somewhere between the two.
Can you make lattes with a stovetop espresso maker?
Yes! all you have to do is froth some milk and you will have a faux espresso latte. Just add your frothed milk to the desired amounts for your latte. If you don't have a milk frother just whisk up some warm milk.
How do I clean my Moka pot?
If you've had your Moka pot for a while now and there are stains you can't get out here's the solution. You can make a cleaning liquid from one part vinegar and two parts water. Pour that into the pot and turn on the fire and brew the liquid with no coffee grounds. This washes all the hard to reach places that you normally cannot clean.
Conclusion
Stovetop coffee makers are a great choice any coffee connoisseur. There have been generations of people drinking this and we'll be drinking it for generations to come. With this stovetop coffee maker how to guide you can always make the perfect cup of stovetop espresso too!
All you have to do is learn the basics and purchase the right pot to have many years of great coffee going forward. I hope you liked our how to make espresso on the stove guide!